5 Thanksgiving Dining Options at Valley Restaurants
Learn where to find great food for Thanksgiving at five places in the San Fernando Valley, whether it's grab-and-go, enjoyed in a restaurant setting or distilled into ice cream. At […]
Learn where to find great food for Thanksgiving at five places in the San Fernando Valley, whether it's grab-and-go, enjoyed in a restaurant setting or distilled into ice cream.
At Barrel & Ashes in Studio City, chefs Timothy Hollingsworth, Rory Herrmann and Michael Kahikina are providing mix-and-match Thanksgiving feasts to-go through November 23. Servings feed 6-8 people on average and include a glazed smoked ham that registers about 5 pounds and costs $89. Possible sides include pimento cheese and crackers ($19), broccoli salad ($19), kale Caesar salad ($31), green bean casserole ($34), candied yams ($34), mashed potatoes & gravy ($34), mac 'n' cheese ($39), hoe cake corn bread stuffing ($28) and cranberry sauce ($8). Dessert brings pumpkin pie ($24) or apple crisp ($28).
11801 Ventura Blvd., Studio City, 818-623-8883
The Woodland Hills branch of Fleming's Prime Steakhouse & Wine Bar is serving Thanksgiving dinner starting at 11 a.m. Their special menu costs $39.95 per adult and includes a feast with choices at many turns. Start with a first course of either Fleming's salad or lobster bisque. The main course, mixed herb-roasted turkey breast with savory turkey gray, comes with house-made brioche stuffing, fresh cranberry, orange and cinnamon sauce; butter-mashed sweet potatoes; and green beans with bacon, almonds and onion. Dessert involves an agonizing decision: pumpkin cheesecake with Chantilly cream and caramel glaze or three-layer carrot cake with cream cheese frosting and dark-rum caramel drizzle.
Fleming's is also featuring a Thanksgiving Holiday Children's Menu that's available for children 12 and under at a cost of $19.95 per child. This slightly abbreviated menu includes honey ham and cheese canapé and a choice of 2% milk, soft drink or juice.
6373 Topanga Canyon Blvd., Woodland Hills, 818-346-1005
At The Front Yard, the resident restaurant at The Garland Hotel in North Hollywood, executive chef Larry Greenwood and chef de cuisine Jacob Smith are spearheading a buffet loaded with Thanksgiving classics from noon to 8 p.m. The cost is $45 per adult, $21 for kids 12 and under, and features the tagline: "We cook, we clean, you feast!"
The 16-dish spread includes starters like roasted butternut squash and brown butter soup; baby green salad with chef's garden vegetables and blood orange vinaigrette; ancient grain salad with roasted butternut squash and pomegranate; and apple arugula salad with Manchego, pecan and red wine vinaigrette.
Key proteins include orange and maple brined turkey with cranberry sauce and sage gravy; herb-roasted prime rib with horseradish sauce and jus; and porcini-dusted Chilean sea bass with wild mushroom bordelaise.
Complementary sides consist of andouille sausage stuffing, roasted sweet potato with cardamom, marshmallow and candied pecans; whipped gold potatoes with scallions; green beans with portobello mushrooms, Parmesan and fried shallot; and roasted local fall vegetables.
The dessert trio involves pumpkin cheesecake, chocolate caramel pecan pie and Key lime tartlets.
4222 Vineland Ave., North Hollywood, 818-255-7290
Salt & Straw, the Portland-based ice cream purveyor from Kim Malek and chef/cousin Tyler Malek is selling five flavors of Thanksgiving ice cream at their Studio City outpost (and other LA locations) through November 23. The five flavors that Salt & Straw is touting include sweet potato casserole with maple pecans, buttered mashed potatoes and gravy, California acorn and chestnut stuffing, salted caramel Thanksgiving turkey, and spiced goat cheese and pumpkin pie. Better yet, for every pint purchased Salt & Straw will donate another pint to Los Angeles Regional Food Bank to provide families in need with dessert on Thanksgiving.
12180½ Ventura Blvd., Studio City, 818-358-2890
At Tuning Fork, the Ventura Place gastropub in Studio City, Chef Jay Bedassie is pre-selling food for pickup on Wednesday, November 23, with every dish designed for home enjoyment on the following day, Thanksgiving.
A whole turkey weighs 10 to 12 pounds and costs $85. Sides include turkey gravy ($12), garlic herb roasted Brussels sprouts with smoked salts and lemon ($16 per quart), Granny Smith herb leek herb stuffing with cranberries ($16 per quart), russet cauliflower mash ($15 per quart), curried roast cauliflower with raisins, shaved almonds and cashew sauce ($13 per quart) and Chef Jay's cranberry sauce ($8 per pint).
Finish strong with dark chocolate pecan coconut pie ($20), Grandma's Thank You Apple Pie ($18), maple pumpkin pie ($16) and/or (double chocolate chip cookies ($12 per dozen).
12051 Ventura Pl., Studio City, 818-623-0734
More Stories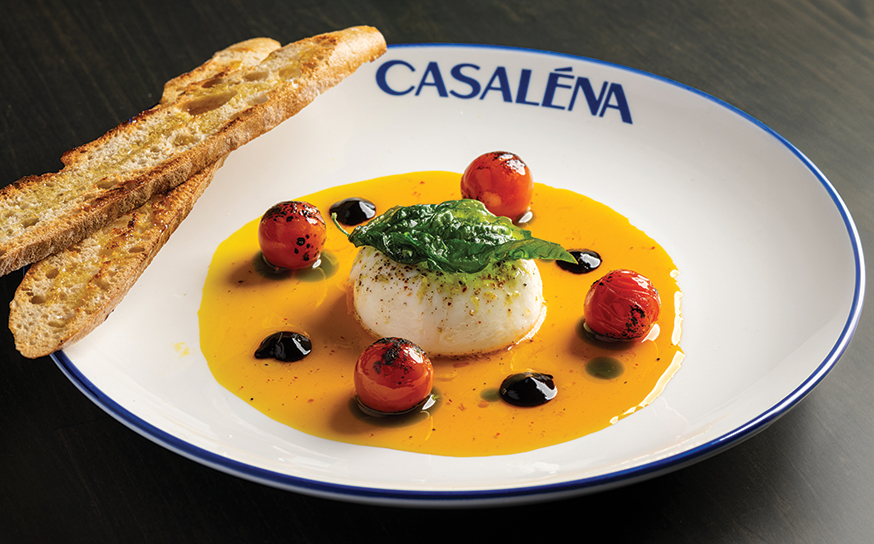 Join the Valley Community
Receive the latest stories, event invitations, local deals and other curated content from Ventura Blvd.
By clicking the subscribe button, I agree to receive occasional updates from Ventura Blvd.