A New England-Style Seafood Bake—California Style
Category

Eat & Drink

Produced, written and styled by

Kara Mickelson

Photographed by

Shane O'Donnell
Combining a New England-style lobster bake and our love of coastal California, a seafood feast made on a sheet pan that is simple without sacrificing taste. 
Sheet Pan Seafood Bake
Serves 4–6
---
2 tablespoons Old Bay Seasoning
2 sticks melted, clarified unsalted butter or ghee
3 garlic heads
Olive oil
6 lemons
4 ears corn, husked and cut into thirds
12 ounces (about 4 links) andouille sausage,  ¼-inch thick diagonal slices
1 red onion, quartered
1 white onion, quartered
1 to 2 pounds petite new potatoes
Salt and fresh ground pepper
1½ pounds whole head-on shrimp in the shell, deveined
1½ to 2 pounds fresh littleneck clams,  scrubbed and purged
1½ to 2 pounds fresh or frozen mussels,  scrubbed and debearded
4 whole Maine lobsters, 1 to 1 ¼ pounds each  (or 4- to 6-ounce raw tails)
Fresh parsley for garnish
Preheat oven to 425°. Stir Old Bay Seasoning into one stick of melted butter. Slice four garlic cloves thinly; set aside. Slice off tops of whole garlic heads and drizzle with olive oil. Cut two lemons in half horizontally.
Add corn, sausage, onions, potatoes, garlic heads and cut lemons to a sheet pan. Drizzle half the butter-Old Bay mixture over the vegetables and sausage and stir to coat. Add salt and pepper.
Cover pan and secure with foil; cook 18 to 20 minutes or until potatoes and corn are fork-tender. Remove from oven. Remove foil and add shrimp, clams, mussels and fresh garlic. Drizzle with half of remaining butter mixture and olive oil to coat. Reserve the rest of the mixture for lobster.
Leave lobster tails whole or slice in half before cooking. Add to a separate sheet pan and coat with remaining butter. Add both trays back to oven and cook about 9 minutes, or until lobsters and shrimp are cooked through and clams and mussels are fully open. Discard any clams or mussels that don't open. Lobster claws, knuckles and raw lobster tails will need 5 to 8 more minutes to fully cook.
Toss seafood together in a bowl. Add fresh chopped parsley. Melt the remaining stick of butter and serve with lemon wedges at each place setting.
Steamed Berry Lemon Ginger Pudding Cakes
Makes 4 (5-ounce) ramekins
---
2 large eggs, separated
½ cup fresh blueberries
1 cup high-quality blueberry jam
1 teaspoon cornstarch
¼ teaspoon cream of tartar, plus a pinch
¼ cup unsalted softened butter
½ cup plus 1 tablespoon granulated sugar
¼ cup whole cream
1 large lemon, zest and juice
1 (1-inch) piece fresh ginger, peeled and finely grated
¾ cup all-purpose flour
¼ teaspoon salt
¾ teaspoon baking powder
¼ teaspoon baking soda
ice cream, crème fraîche or fresh whipped cream
½ cup fresh blackberries
Preheat oven to 350°. Lightly butter or oil heatproof ramekins. Cut parchment and foil into 5-inch squares.
Separate egg whites and yolks into bowls. Place whites in freezer for 15 minutes.
To make berry sauce, add ¼ cup blueberries to small saucepan with 3 tablespoons water. Cook at low heat until berries begin to burst. Add 1 cup jam to pan. Mix cornstarch with 1 tablespoon water and add to saucepan. Stir over low heat until sauce begins to thicken. Reserve.
Beat egg whites with stand-up mixer fitted with a whisk attachment, or use hand mixer. Whisk on medium-high speed. Add pinch of cream of tartar when peaks begin to form. Whisk until peaks are stiff.
Using rubber spatula, carefully transfer whipped egg whites (meringue) to a separate bowl, being careful not to deflate them. Add softened butter and sugar. Switch to paddle attachment or beat with wooden spoon until thick and creamy. Beat in egg yolks one at a time until fully incorporated.
Combine cream, lemon juice and zest, and ginger. In separate bowl, use fork or whisk to combine flour, salt, baking powder, baking soda and ¼ teaspoon cream of tartar. Alternate, adding 1/3 flour mixture followed by 1/3 cream mixture into egg-and-sugar mixture. Beat thoroughly until all ingredients are combined.
Remove mixer bowl and add ¼ cup meringue into cake batter. Mix thoroughly. Fold in remaining meringue; don't overmix. Some white streaks will be present, and batter will be glossy and thick.
Using slotted spoon, place 1–2 tablespoons blueberries from sauce in each ramekin. Fill ramekins with batter. Top with 1 tablespoon blueberries from sauce. Reserve remaining sauce.
Butter one side of parchment paper. Mold over top of ramekins. Top paper with foil and secure with twine. Add trivet or steamer basket to Dutch oven or deep casserole dish. Add ramekins and fill bottom of Dutch oven with water so it reaches base of cakes. Tie a tea towel up and over pan lid before placing on the pot to keep steam in while cooking.
Turn oven down to 325°. Cook cakes for 1 hour. Make sure there is sufficient water to maintain steam during cooking.
Remove foil wrap, leaving parchment paper on cakes. Once cool, cover with fresh foil and refrigerate. Can be made a day in advance and served warm or room temperature. Run a knife inside the edge of ramekins and unmold cakes into serving bowls. Serve with whipped cream, ice cream or crème fraîche. Add fresh berries and spoon reserved sauce over top.
Seafood Shopping
---
The Joint 
A favorite among chefs, The Joint offers some of the freshest seafood in LA. Walk in and you immediately see the large glass cabinets of hanging aged fish. Fishmonger/butcher Chef Liwei Liao specializes in his own unique method of dry aging. The Joint offers walk-in counter service and online ordering via email. But for specialty items like lobsters, littleneck clams  or whole shrimp, it is best to place orders at least 48 hours in advance.  In what might be the Valley's most unusual pairing, The Joint is also  part coffee shop, with baristas serving handcrafted coffee drinks and  an in-house bakery serving fresh goods made daily. 
13718 Ventura Blvd., Sherman Oaks  |  thejointeatery.com
---
Sprouts Farmers Market
This grocery store carries the brand Next Wave of Bantry, which has a line of frozen, cooked, ready-to-eat mussels. The garlic and butter option are quite tasty and work well for our sheet pan recipe.
21821 Ventura Blvd., Woodland Hills
---
Mail-Order Options
There are numerous online resources for ordering premium seafood. Here are three that make ordering and delivery easy:
Lobster 101
---
Maine lobsters, also called American lobsters, are found on the Atlantic Coast of North America and provide wonderfully sweet claw and tail meat. Canadian lobsters are the same species with a harder shell. They survive longer out of water (72 versus 48 hours) and are slightly less sweet. Most of the grocery store lobsters you'll find in the Valley are from Canada. 
Lobsters must be kept alive until they are cooked. Place live lobsters in the refrigerator—but not in a sealed plastic bag, so they can breathe. The ideal temperature for storage is 40°.
Keep lobsters away from ice or fresh water. If you're not cooking them right away, wrap them with seaweed or ask the fishmonger for some paper soaked in salt water from the lobster tank to keep them moist.
To humanely dispatch the lobsters, numb them first by placing them in the freezer for about 15 to 20 minutes before cooking. For this recipe, we recommend partially cooking whole lobsters to prolong freshness and minimize cooking and tasks on the event day. Fill a stockpot (5 quarts or larger) a little more than half full of water. Bring to a boil and add a ¼ cup of salt and ¼ cup vinegar. 
When the water comes to rolling boil, use tongs to plunge the lobsters headfirst into the pot. Cook them fully submerged and in batches to avoid crowding the pot. Keep pot at a rolling boil for each batch. Cover and cook 3 to 5 minutes or until the shells turn bright red. Keep your eyes peeled—you don't want to overcook. Tail meat should be firm and opaque. Stir halfway through boiling to ensure even cooking. 
Remove lobsters and transfer to a colander. Run cold water over the lobsters or plunge them into an ice bath to stop the cooking process, and then drain. Once cool, place the lobster on a cutting board. Flip onto its back, and while grasping firmly, plunge a knife into the head to slice open. Leave tails whole or slice in half. 
Use kitchen gloves to remove the tomalley (liver), lungs and coral in the head/body of the lobster and rinse with fresh water. Twist off the claws. Crack claws and knuckles with a lobster cracker. Meat keeps in the refrigerator for up to two days.
More Stories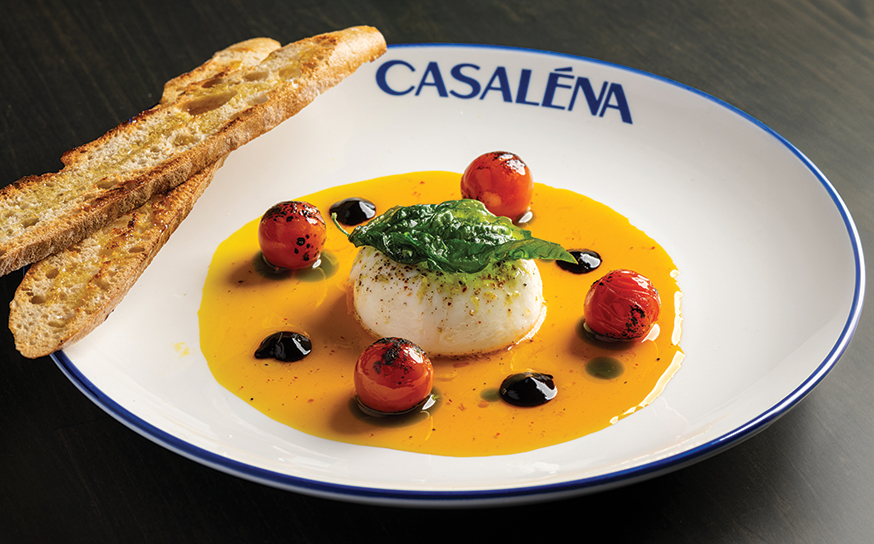 Join the Valley Community
Receive the latest stories, event invitations, local deals and other curated content from Ventura Blvd.
By clicking the subscribe button, I agree to receive occasional updates from Ventura Blvd.