A Sneak Peek at The Gadarene Swine
Since signing the lease two months ago on the former Egg Plant in Studio City, Chef Phillip Frankland Lee of Beverly Hills' 1-year-old Scratch|Bar has garnered a ton of attention […]
Since signing the lease two months ago on the former Egg Plant in Studio City, Chef Phillip Frankland Lee of Beverly Hills' 1-year-old Scratch|Bar has garnered a ton of attention for his newest venture, The Gadarene Swine, as he is known as one of the most exciting young chefs in LA today. However, it turns out the theme of the restaurant has nothing to do with pork; in fact, there is no meat or meat substitute at all. The Gadarene Swine is all about vegetables and fruit—which Phillip intends to introduce and re-imagine on a whole new level.
The Gadarene Swine will not open until September 9; however, I was able to get a sneak peek at a media dinner for eight last Thursday to see what Phillip (who spent a good part of his childhood in Studio City) has in store. The 818 was fortunate to be briefly introduced to him at the former D'Cache in Toluca Lake, where he created a new spin on Latin cuisine before opening Scratch|Bar. Citywide he has worked in such esteemed kitchens as Hatfield's and Providence.
So why the name? It comes from The Gadarene Swine Fallacy—a philosophical theory that if everyone is following in line on the same path, they are on the right course … but if they stray out of line, they are lost … except those who can basically observe outside the box.
What does this mean for the restaurant? Phillip doesn't put labels on his cuisine, and he puts his own stamp on what he creates. He doesn't call it vegan or vegetarian but rather is re-inventing the vegetable and making each one a star.
Phillip explains his intention: "I want to explore eating without the use of meat or animal products, except honey, because I just really like honey." He adds that his menu is "made from scratch and nutritonally focused without butter and cream."
The Gadarene Swine is a switch for Phillip, who says he is a meat eater. Moreover, his menu at Scratch|Bar includes exciting renditions of such non-veggie dishes as pork belly, bone marrow, prawns and dry-aged rib eye. He aims to make the same statement with fruit and vegetables at The Gadarine Swine.
The small restaurant was still a work-in-progress during the media dinner—chairs were stacked and tables pushed to the side. A temporary sign had just been installed, and painting had just been completed.
As explained by Phillip, there will be two dining choices at The Gadarene Swine. One will be table service with à la carte choices meant for sharing. The other option is the "chef's counter" with eight seats at the marble bar, where Phillip will serve a 10-course tasting menu (plus a few bar food items) of dishes named for the main vegetable ingredient. Think vegetable omakase for a fixed price. This is for the more adventurous eater looking for an inventive dining experience in an intimate setting.
The beverage menu will include wine (vegan), beer and pressed juices made from remaining scraps of fruit and vegetables with choice addition of soju, sake or sherry. He will also make his own mead—an alcoholic drink made with honey, water and various fruit. Desserts are created by his pastry chef wife, Margarita Kallas Lee.
Phillip says he intends to plant a garden behind the restaurant and use as much as he can for his creations. And to complete the veggie theme: All serving dishes are items that are used for, or come from, plants and vegetables, including placemats made from trees—bark and all.
I loved the meal for taste, creativity and the fun of watching a chef plate. But if the whole fallacy thing doesn't work for you, there's always Stout next door for a burger and fries. Personally, I look forward to trying The Gadarene Swine again when it is up and running. It is an ambitious restaurant that will definitely bring a new flavor to the boulevard.
Fun fact: Phillip is the grandson of a legendary comedian—the late Phil Silvers.
Take a peek …
Photos: Karen Young
*Note: The size of the dishes make the tasting courses look tiny in these photos. However, each of the 10 (plus bar snacks) builds on the other and is sufficiently well-portioned.
Chef Phillip Frankland Lee
The placemat is made from a tree.
Pre-dinner bar snacks included lemon-pistachio kale chips (above) and roasted garlic and thyme popcorn (not pictured).
Another bar snack: honey-fried olives stuffed with mashed potato.
The 10-course tasting menu began with whipped tomato that had been roasted with salt and olive oil, drizzled with a balsamic reduction and served with soft crostini.
Chinese eggplant dried to a crispy shell with eggplant puree, avocado mousse, red onions, pea sprouts and corn—meant to be eaten with your hands like a little tostada.
Pouring lemon broth into my onion course.
Ciopollini onions, nori seaweed, crumblings of sourdough bread in a French onion soup.
Preparing the carrot course. All serving dishes are those that are used for planting and vegetables. Yes, they have been prepared for safe food consumption.
This carrot course has sugar-roasted carrots, butternut squash and a pineapple-tumeric emulsion among its ingredients.
Sliced strawberries are married with strawberry gazpacho, lamb's lettuce, figs, pickled cucumber and roasted pecans.
Prepping the cauliflower course.
Phillip says cauliflower is the vegetable that "started it all" and got him thinking about his vegetable concept. He originally tried this dish out at D'Cache. It consists of a cauliflower puree made from four types of cauliflower, with stems that are roasted like a jerky.
Pureed maitake mushrooms are the base for shimeji mushrooms and crispy pea tendrils, along with other savory ingredients.
Phillip calls this "the medley" as it is a combination of all the vegetables served, wrapped in a Yukon Gold potato "basket" on top of a puree of sweetly charred Japanese eggplant.
This dish is called the salad and provides a quick, refreshing jolt to the palate. It consists of a frozen grapefruit vinaigrette, brown sugar, pea tendrils and a sprinkling of sourdough bread.
The last course was named orange for a main ingredient; however, the dessert is "tres leches" prepared by Phillip's wife and pastry chef, Margarita Lee. It's made with almond, hemp and coconut milk, along with orange granite cotton candy, vanilla and drizzled with grapefruit olive oil spooned from the candle below.
Phillip made the candles that decorated the marble bar from whole grapefruit and olive oil.
Phillip and Margarita met in middle school.
The Gadarene Swine, 11266 Ventura Blvd., Studio City, 818-508-5500. Open for dinner Tuesday to Saturday, 5 to 10 p.m.
More Stories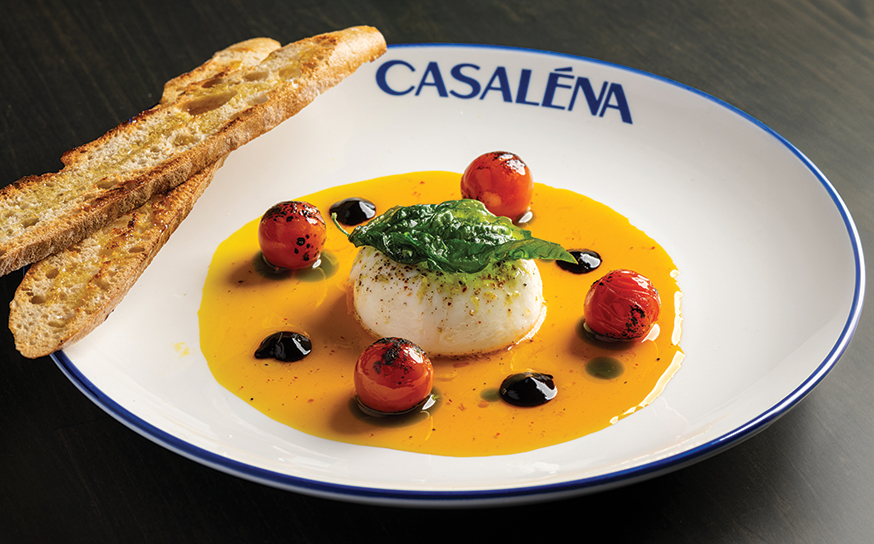 Join the Valley Community
Receive the latest stories, event invitations, local deals and other curated content from Ventura Blvd.
By clicking the subscribe button, I agree to receive occasional updates from Ventura Blvd.