A Sweet Corner in Sherman Oaks
A little bit of sweetness recently landed on Van Nuys Blvd., just south of Ventura. Cakes By Rumy, winner of the 2011 Food Network Cake Challenge and known for its […]
A little bit of sweetness recently landed on Van Nuys Blvd., just south of Ventura. Cakes By Rumy, winner of the 2011 Food Network Cake Challenge and known for its beautiful vintage style, custom cakes, opened a second location that serves as a consulting studio (the first locale is a bakery kitchen at Woodman and Moorpark). The bigger news is right next door — SnowPiffs, a new sweet shop that showcases "shaved snow," also known as "snow cream," and incorporates mini-baked goods from Rumy, including cake pops (some of the best I've had), cupcakes, fruit tarts, macarons and the very fun "cake-in-a-jar."
The businesses are separate, but complementary, as they share a family common denominator — SnowPiffs owners Oakley Trinh and John Tran are cousins and Tran is married to Rumy. "Piffs" means "pay it forward" as they emphasize giving back to community as part of the business model.
SnowPiffs is based on the Taiwanese ice dessert, but according to co-owner Oakley, theirs is an original recipe which was developed over the last two years — there are no fillers or powders and the base is made from pure fruit with little sugar added. A cross between ice cream, yogurt and gelato, it comes in frozen blocks and is literally shaved into a fluffy, ribbon-like texture for each individual order. It tastes lighter than yogurt, literally melts in your mouth, and is quite refreshing for a hot, summer day. As a friend said, "It's like snowflakes in a cup."
Oakley says that the small size of seasonal fruit flavors has 60 to 80 calories, while the more decadent "cake batter" recipes created by Rumy contain approximately 100 calories.
There are over 30 toppings with choices of fresh fruit to mini-churros, Cap'n Crunch, mochi, Oreo crumbs, azuki beans, gummies and more, as well as syrup drizzles, such as sweetened condensed milk, white chocolate, caramel and chocolate. Unlike other shops, there is no charge for toppings, so feel free to pile on as much as you want. And of course, that's where the calorie count ends. Be warned: Some sugary toppings take away from the pure flavor of SnowPiffs. The price is $3.99 for a small and $4.99 for a large. There is an extra $1 charge for two flavors in a cup.
From my few visits, so far I'm a big fan of the cantaloupe and mango flavors with fresh strawberries, although vanilla cake batter was rather outrageous— especially with sprinkles and cookie crumbs that made it taste just like birthday cake. Chocolate cake batter is probably best suited for a true chocolate lover as it is denser than the other flavors. There are usually six to seven flavors from which to choose, including a vegan option.
The downside of the location is parking. Find it on the street or in the paid parking lot a block west. It's worth the walk. snowpiffs.com; cakesbyrumy.com 4341 Van Nuys Blvd., 818-276-6956
Shaving the "snow cream" from a frozen block.
More Stories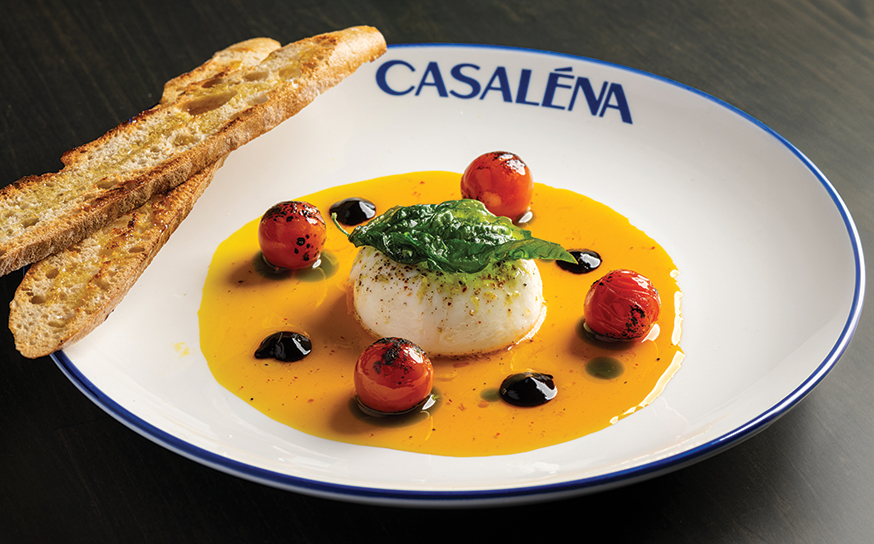 Join the Valley Community
Receive the latest stories, event invitations, local deals and other curated content from Ventura Blvd.
By clicking the subscribe button, I agree to receive occasional updates from Ventura Blvd.