And a Saucey New Year! Eve/Day Options
Our very incomplete list of random acts of New Year's celebration
Just think, the next time The Sauce sees you, you'll be a year older. No, wait, that's not right. Still, this is the last blog of 2015, so it must include a few suggestions on where to go to ring in 2016.
New Year's Eve is no night to be driving over the hill—and frankly, we'd just as soon not run into you in the canyon on New Year's morning either. But since you probably don't want to just stay home watching Netflix, here are a few suggestions to keep you Valley-side, in no particular order. If these don't suit, check with your favorite restaurant—chances are you're invited.
You'll have to wait until 2016 for this one, but it wins the top spot for sheer inventiveness: North Hollywood's The Front Yard at the Garland is offering a New Year's Day Disco PJ brunch, 11 a.m. to 2:30 p.m. As the restaurant describes it, you'll be "jamming out to the Bee Gees" while chowing down on executive chef Chris Turano's "psychedelic feast" of brunch specials including Nutella/banana pancakes, shrimp and grits, and huevos rancheros. And if you show up in your pajamas, you get a complimentary mimosa or Bloody Mary. You'll need it. 4222 Vineland Ave., 818-255-7290
Studio City's Maradentro Mexican seafood restaurant made Ventura Blvd magazine's list of top debut restaurants for 2015, so why not make a visit before 2016? On New Year's Eve, along with the regular menu, Maradentro will offer a "surf and turf" option with a New York strip steak and two jumbo shrimp in ajillo sauce, plus sides. Also look for a Puerto Nuevo-style lobster tail. 11929 Ventura Blvd., 818-358-3423
Maradentro Surf & Turf
It's rude to eat and run, but not to eat and dance: NoHo's Federal Bar invites you for New Year's Eve dining and hip-hop dancing. Executive chef Grant Wagemaker has created a special New Year's Eve menu including Chilled Santa Barbara spot prawns, roasted prime rib, cioppino and fava bean agnolotti. 5303 Lankershim Blvd., 818-980-2555
You don't have to be embarrassed to say you want to be home before midnight on New Year's Eve—especially with the option of visiting Calabasas' Saddle Peak Lodge, 5 to 10 p.m., for an elegant tasting menu that includes such treats as Raspberry Point oysters, truffled portabella soup and seared foie gras. 419 Cold Canyon Rd., 818-222-3888
Are you surprised that Sherman Oaks hotspots Tipple & Brine and Tunnel Bar are ready to party for New Year's Eve? We're not. Tipple & Brine executive chef Marc Johnson's dinner menu will include fig salad with prosciutto and black pepper ricotta, swordfish and flatiron steak. The evening's special cocktail is the Dahlia Rose (tequila, strawberry, ginger, agave and lime). The celebration continues until 2 a.m. at Tunnel Bar (access through Tipple & Brine) with sophisticated bites (sea urchin toast, crispy bacon toast with burrata, leeks and fennel pollen), and craft cocktails including the Classy Bitch (raspberry vodka, orange juice, sloe gin and sparkling wine). 14633 Ventura Blvd., 818-528-2550
Tipple & Brine's Charred Octopus
More Stories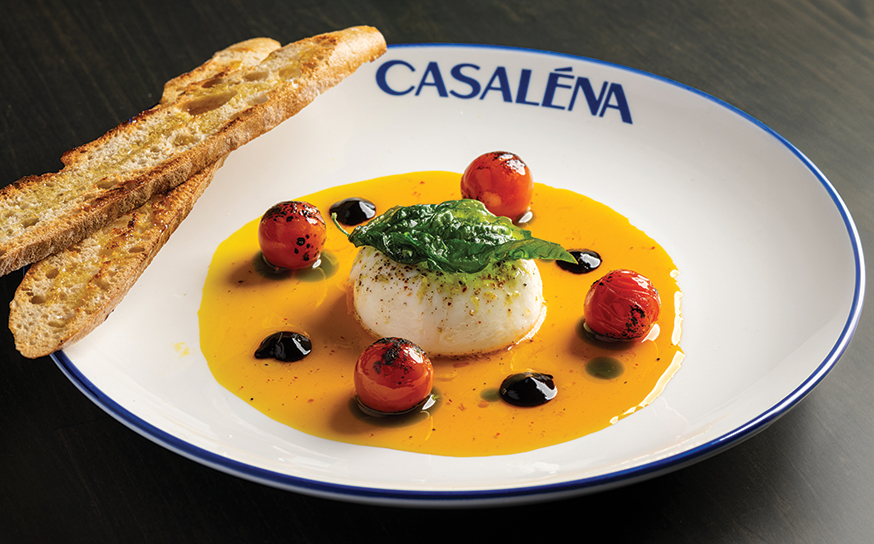 Join the Valley Community
Receive the latest stories, event invitations, local deals and other curated content from Ventura Blvd.
By clicking the subscribe button, I agree to receive occasional updates from Ventura Blvd.