Bow & Truss Debuts New Chef and Re-Imagined Menu
Bow & Truss in Noho just announced that Aaron Grissom has joined the Latin-inspired restaurant as Executive Chef replacing Stefhanie Meyers who has moved on to pursue other opportunities. Meyers […]
Bow & Truss in Noho just announced that Aaron Grissom has joined the Latin-inspired restaurant as Executive Chef replacing Stefhanie Meyers who has moved on to pursue other opportunities. Meyers had been with the restaurant since its opening in June, 2012. Grisson recently moved to Los Angeles from Dirty Oscar Annex in Tacoma, Washington where he honed his craft infusing classic American cuisine with French accents and modern technique.
Grissom says he has designed the new Bow & Truss menu with a mind for mixing traditional Latin flavors with an inventive twist. Grissom is dedicated to local and sustainable practices, so he ideally wants to source seasonal, hyper local ingredients.
The space itself remains the same — and is quite impressive for an 818 eatery with a 2000 ft. outdoor area complete with a bar, wood tables and a few lounges sitting on carefully placed dirt, all surrounded by tall brick walls. The interior has a centerpiece bar surrounded by tables and booths.
Grissom's formal introduction comes on Valentine's Day with a special four-course prix fixe menu to celebrate the romantic holiday, featuring Latin dishes from the new menu. Selections include: Komodo Oysters, Squash soup, Kale and Quinoa Salad, Pork Loin, a Fish Bowl, Mary's Chicken (pictured above), and chocolate-covered cherries for dessert. Wine and beverages are included. $65 per person.
Bow & Truss, 11122 Magnolia Avenue., North Hollywood (just east of Vineland). (818) 985-8787. Street parking or valet parking $5 during dinner. Open for lunch and dinner daily with brunch on Saturday and Sunday 10 a.m.-3 p.m.
More Stories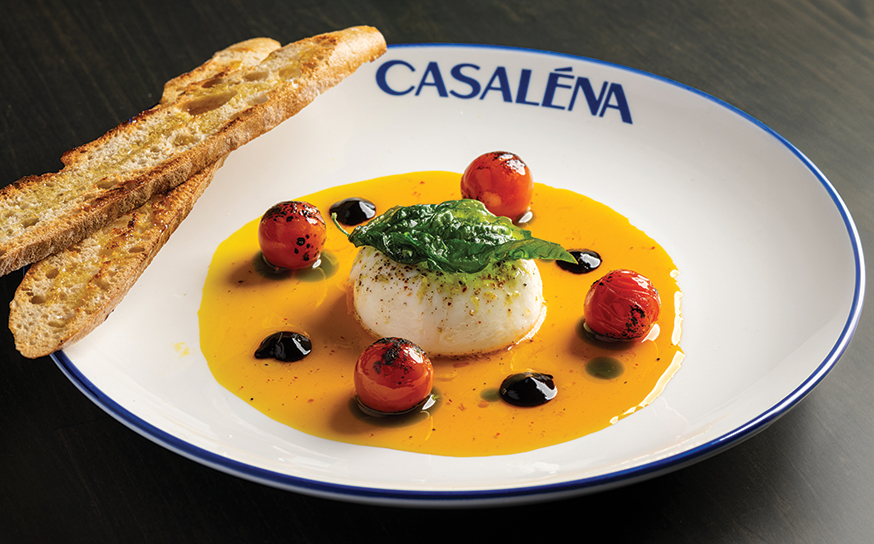 Join the Valley Community
Receive the latest stories, event invitations, local deals and other curated content from Ventura Blvd.
By clicking the subscribe button, I agree to receive occasional updates from Ventura Blvd.