C-Cap Scholarship Program for Young Chefs Comes Full Circle
Giving that goes both ways.
Category

Eat & Drink

Written by

Karen Young

Photographed by

Shane O'Donnell

Above

C-CAP alumna, professional chef Tiana Gee
Sixteen faces fill the computer screen amid an amalgam of backgrounds and name cards. In one view is Donald Wressell, head pastry chef at Guittard Chocolate. His wife, Lorri Wressell, C-CAP LA's event planner and career advisor, uses a phone to video his two-hour demo on various cooking skills. The high school students are prepping for the preliminary round of the enrichment program's annual scholarship cooking competition.
Chef Timothy Hollingsworth instructing students in 2019.
Maneuvering around the professional kitchen at the Institute of Culinary Education (ICE) in Pasadena, Chef Donald demonstrates knife skills—how to master five precise cuts—as well as techniques to perfect a French omelet.
"It takes practice, kids," he says reinforcing that muscle memory is key to learning prep skills that will get them hired.
For the first time, the competition for the scholarship recipients will take place at home. The students will be provided with donated food and equipment and expected to document their process by uploading photos, videos, and personal evaluations.
"Above all, our students have proven to be resilient. They're motivated, dedicated and fearless. C-CAP kids are inspiring, and they keep us moving forward."
The Careers through Culinary Arts Program (C-CAP) is a nonprofit workforce development program founded in 1990. It operates in six regions across the country, providing scholarships, job training and opportunities, internships, college advising, product donations, corporate sponsorships and more. The LA region serves more than 5,000 public school students, from Long Beach to Oxnard.
Los Angeles program director Lisa Fontanesi says that the scholarships provide underserved students the opportunity to pursue education at prestigious cooking schools as well as community colleges. More than $6 million in scholarships, raised through donations and celebrity chef gala benefits, have been awarded to LA students over the past decade.
PANDEMIC PIVOT
---
When the stay-at-home order hit last March, C-CAP pivoted to distance learning. The team reached out to chefs, friends and alumni for product donations and requests for Instagram Live and online demos. One program included a pizza dough lesson with James Beard-award-winning pastry chef Sherry Yard and a class in handmade pasta with Rossoblu chef/owner Steve Samson.
"It's difficult, since the students, teachers and chefs haven't physically seen each other for a very long time, but we've managed to make it work," says culinary coordinator Gail Carney.
San Fernando High School culinary teacher Tina Hartounian explains the challenge for most students is "lack of space and privacy in their homes, taking care of their emotional well-being, and access to technology." She praises C-CAP for the quick action, ensuring that 150 students had connectivity and Chromebooks, necessary food products, and supplementary lessons in such topics as mindfulness and urban farming.
Melissa Paz, a senior at San Fernando High School, hopes to open a bakery or cafe after attending culinary school. "Learning it on my own was slow and overwhelming, as there's so much to learn. C-CAP helps it feel not so overwhelming."
An example of C-CAP's success is chef Tiana Gee, 24, a 2014 Glendale High graduate and scholarship awardee. A rising star, she is a featured chef for Bon Appétit, appearing in videos on social media and the magazine's website. She also works as a private chef and caterer.
Tiana credits the program for changing her life through hands-on guidance and the opportunity to work at an event where she met C-CAP co-chair, and six-time James Beard award winner, chef Marcus Samuelsson. He hired Tiana as a sous chef at his New York restaurant Red Rooster, and featured her in his book, The Rise, with a recipe he created inspired by her Filipino and Black heritage.
"Marcus has given me tools to help me become a better person and chef. He's the greatest mentor I could have ever asked for," Tiana says.
Students help cook at C-CAP's 2020 Annual Winter Gala fundraiser at the Jonathan Club in LA.
FULL CIRCLE
---
Dozens of  prominent LA chefs support C-CAP  including Valley chef/owners Sandra Cordero (Gasolina Café) and Antonia Lofaso (Black Market Liquor Bar). DTLA chef Neal Fraser (Redbird) donated proceeds from the first reopening evening of his eatery last June. In November, the organization worked with students to prepare Thanksgiving meals for homebound seniors.
"We are always happy to help, but it's really nice when you can see the results right in front of you like we do with C-CAP. They have the best kids!" says Neal.
Students also helped Faith & Flower executive chef Michael Hung prepare meals for Donate to Feed LA's Homeless, and trained with World Central Kitchen to provide meals to underserved LAUSD students and families.
Barbara Fairchild, former editor-in-chief of Bon Appétit, is chair of C-CAP's LA Council and sits on the national board. She believes that flexibility and adaptability have been key to C-CAP's success and despite the challenges of COVID on their own restaurants, the non-profit's partner chefs have rallied to the cause. "Above all, our students have proven to be resilient," says Barbara. "They're motivated, dedicated and fearless. C-CAP kids are inspiring, and they keep us moving forward."
Curried Cauliflower Steaks With Blood Orange Chimichurri & Dandelion Greens
Curried Cauliflower Steaks With Blood Orange Chimichurri & Dandelion Greens
Tiana Gee, C-CAP alumna and host of Cookin' with Tee on YouTube, shares a savory, flavorful vegan recipe.
---
2 small heads of cauliflower
1/8 cup curry powder
1/4 cup curry paste
2 small bunches dandelion greens
1 leek, greens cut off
2 cloves garlic, minced
2 tablespoons sun-dried tomatoes
2 tablespoons black olives, pitted & chopped
2 teaspoons Worcestershire  
salt & pepper to taste
---
Blood Orange Chimichurri 
2 small blood oranges, zested and cut in segments, membrane removed
2 limes, zested and juiced
1 bunch cilantro
1 bunch flat-leaf parsley
1 bunch dill
1 small shallot 
½ cup olive oil
salt to taste
Prepare chimichurri: Rough-chop fresh herbs and place in small bowl. Add olive oil until herbs are covered. Squeeze lime juice on herbs; add oil and mix. Add blood orange zest. Slice blood orange segments in half and add to mix. Season to taste. Set aside.
Cut cauliflower into steaks about 1 inch thick. Don't worry if they crumble apart; you can still season the bits and cook them with the steaks. Rub cauliflower with curry paste, adding a thin layer to both sides. Sprinkle cauli with curry powder and a little bit of salt. Bring a large skillet to medium-high heat; then add olive oil. Sear cauliflower steaks until golden; then flip over and cook the other side. Takes 6 to 8 minutes. Season to taste.
Prepare dandelion greens. Wash and rough-chop the greens. Cut leek in half lengthwise and thinly slice into half-moons. Add leeks to water and thoroughly clean. Bring a wok to medium-high heat and add leeks and minced garlic; sweat for 2 minutes. Season with salt and pepper. Add greens. Once they begin to wilt, add Worcestershire sauce. Fold in sun-dried tomatoes and olives. Season to taste.
---
Follow Tiana on Instagram at @cheftianagee 
More Stories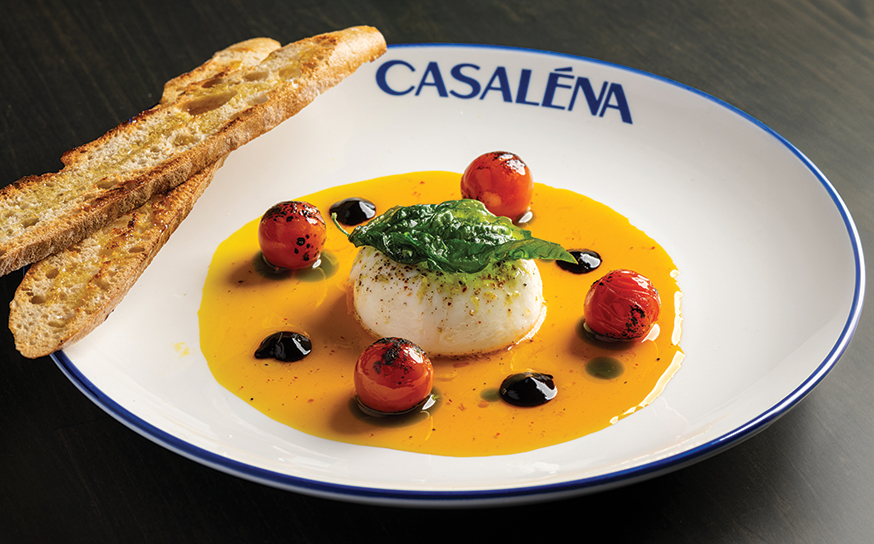 Join the Valley Community
Receive the latest stories, event invitations, local deals and other curated content from Ventura Blvd.
By clicking the subscribe button, I agree to receive occasional updates from Ventura Blvd.