Choose a Citrus-inspired Palette for Your Holiday Tablescape This Year—Plus a Knock-your-socks-off Bundt Cake Recipe
Bright ideas for making a statement.
Category

Eat & Drink

Written, styled & produced by

Kara Mickelson

Photographed by

Shane O'Donnell
An elegant table that blends traditional and not-so-traditional tones, with a few easy do-it-yourself elements.
Gugrida white and gold flatware (20-piece set), $52; amazon.com. Bernardaud Sol dinner plate, $88, and salad plate, $82; Bloomingdale's. Vintage glassware; Antique Corral in Redondo Beach. Repurposed copper hand-hammered chargers created with coat of Rust-Oleum spray paint in the color "Hammered." The napkin décor made from hand-tied pink and orange chrysanthemums (you can use any flower with a small rounded head). The seeded eucalyptus is spray-painted with a mix of two shades: "Hammered" and "Metallic Gold."
Citrus Butter Rum Bundt Cake
Bright and cheery mandarins—in peak season—add a touch of sunshine to an elegant Bundt cake.
---
¼ cup plus 2 tablespoons butter
1¼ cups buttermilk
¼ cup dark rum
1½ tablespoons vanilla extract
3 mandarin oranges, juice & zested (reserve juice for rum sauce)
1 lime, juice & zested (reserve juice for rum sauce)
1 cup unsalted butter, softened
1¾ cups granulated sugar
4 large eggs
3¼ cups all-purpose flour
2 teaspoons baking powder
1 teaspoon baking soda
1 teaspoon salt
Garnish: six mandarins and three limes, sliced, peeled and quartered
In a medium saucepan, heat butter over medium high heat until milk solids begin to lightly brown and butter is melted. Remove from heat. Reserve ¼ cup of browned butter for rum sauce.*
Combine buttermilk, 2 tablespoons browned butter, rum, vanilla and citrus zest. Reserve. Cream butter and sugar in a stand-up mixer or use a hand mixer. Add eggs one at a time and combine thoroughly. Whisk together remaining dry ingredients. Slowly alternate adding half of the dry ingredients, then half of the liquid with the butter and sugar until combined. Scrape bottom to incorporate.
Preheat oven to 325º. Lightly coat Bundt pan with pan spray or vegetable oil. Spoon batter into pan. Tap pan to release air bubbles and smooth top. Make sure batter fills in the decorative edges of the pan, with slightly less batter at the center. Bake for 60 minutes.
Remove cake from oven. Use a skewer to poke holes into bottom of cake. Carefully pour Citrus Butter Rum Sauce over cake, letting it seep into the holes. Let cake absorb liquid. Place a cooling rack over the cake and unmold over a sheet pan while still warm. Top with Buttermilk Glaze. Can be made one day ahead; refrigerate.
Cake should be room temperature or slightly warm before adding Decorator Top Glaze. Spread or pipe glaze on top outer rim of cake. Gently shake and tap to encourage drips.
Garnish with sliced fruit. Add an extra pour of rum over the top of slices if desired.
Citrus Butter Rum Sauce
¼ cup melted, browned butter*
¼ cup light brown sugar
juice of 3 mandarin oranges
juice of 1 lime
3 tablespoons dark rum
1/8 teaspoon salt
Combine all ingredients and heat until sugar is dissolved. Remove from heat and cover.
Buttermilk Glaze
2 cups powdered sugar
¼ cup buttermilk
1/8 teaspoon cream of tartar
1 tablespoon dark rum
Whisk all ingredients together in a small bowl and cover.
Decorator Top Glaze
1¾ cups powdered sugar
2 teaspoons olive oil
2 teaspoons dark rum
1–2 tablespoons buttermilk
1 lime, juice and zest
Mix all ingredients. Add additional sugar as needed to create a spreadable thick paste. More liquid or powdered sugar can help achieve a stiff consistency.
Holiday Bliss Cocktail
A refreshingly simple gin-based drink that's on the healthier side with antioxidant-packed green tea, unsweetened cranberry juice and a hint of soothing ginger.
Makes 1 to 2, depending on glass size
Cocktail Base
1½ ounces gin
1½ ounces 100% unsweetened cranberry juice
2 ounces Ginger Simple Syrup (recipe at right)
3 mandarin oranges, juiced
1 lime, juiced
¼ cup prepared and cooled matcha green tea
mandarin orange or lime twist
sparkling water
Place all ingredients in a shaker or pitcher with ice. Shake or stir until combined. Adjust base flavor as desired by adding more gin or syrup to taste. Rub inside glass with a lime or orange slice. Add splash of sparkling water. Pour, garnish and serve.
Ginger Simple Syrup
¼ cup water
¼ cup granulated sugar
3 slices 1/8-inch thick
fresh peeled ginger root
Add water to a small saucepan. Stir in sugar and ginger. Bring to a boil, then reduce to a simmer for 10 minutes, stirring occasionally until sugar is dissolved. Let cool; refrigerate until ready to use.
More Stories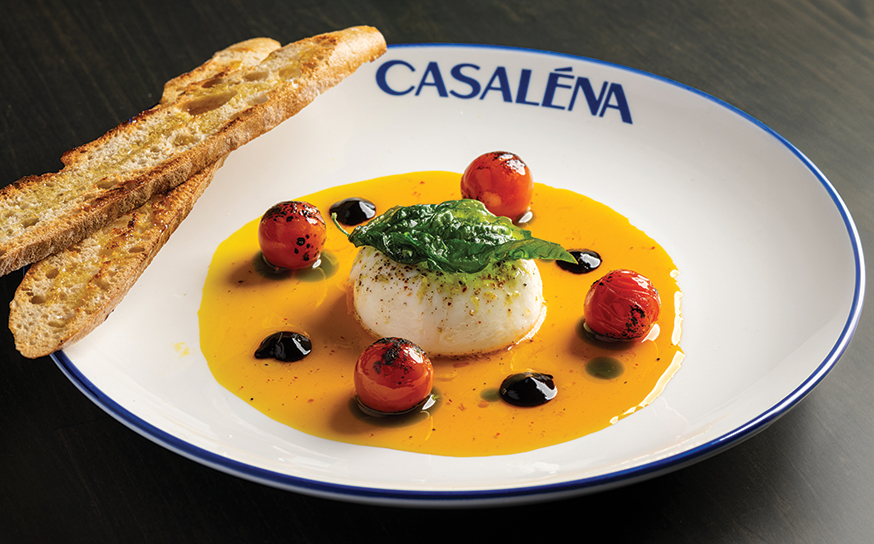 Join the Valley Community
Receive the latest stories, event invitations, local deals and other curated content from Ventura Blvd.
By clicking the subscribe button, I agree to receive occasional updates from Ventura Blvd.