Discover Inventive Ways to Use Summer Stone Fruits in Recipes
Category

Eat & Drink

Photographed by

Shane O'Donnell

Rentals by

Bright Event Rentals

Flowers by

Elizabeth Grace Floral
Farmers markets are brimming with stone fruit right now. And, whether a peach or apricot, there's nothing better than biting into one of these juicy sweets. But stone fruits can also be used to enhance or add interest to summer dishes—particulary when it comes to dinner. Here food stylist and chef Kara Mickelson shows us a few of her favorite recipes, sure to elicit some oohs and ahhs at summer soirees.
Whipped Brie with Brûléed Apricots & Figs
Serves 4 to 6
---
1 (16-ounce) French Brie round
1 (6-ounce) French Brie wedge
4 fresh black figs, sliced lengthwise
3 to 4 small apricots, pitted & sliced lengthwise
¼ cup granulated sugar
3 tablespoons honey, mild-flavored
2 tablespoons pine nuts, lightly toasted
fresh mint and basil sprigs for garnish
French baguette, diagonally sliced & grilled
Make sure Brie is very cold. Scrape the cheese from the Brie wedge and discard the rind. Cut the top off the Brie cheese round. Remove the cheese with a spoon and place in a medium bowl, leaving the rind intact. Let Brie come to room temperature.
Using an electric mixer fitted with a paddle attachment, beat Brie on medium-high until creamy and spreadable, about 8 minutes. 
Place figs and apricots in a cast-iron skillet or on a sheet tray. Evenly coat the top of the fruit with sugar. Use a kitchen torch or broiler to caramelize the sugar on top of the fruit without burning.
To serve, place the rind on a plate or platter and scoop the whipped cheese onto the brie round. Use a spoon to create a well in the center. Drizzle in the honey. Place the fruit and grilled bread around the brie. Drizzle additional honey on top, sprinkle with pine nuts and add fresh mint and basil for garnish.
Grilled Tomahawk Pork Chops with Blackberry Marsala Jalapeño Sauce
Serves 4
---
ground black pepper
2 teaspoons dried sage
2 teaspoons ground cumin 
4 tomahawk pork chops (or regular bone-in), 
1½ to 2 inches thick
2½ teaspoons kosher salt
3 tablespoons avocado or vegetable oil
Preheat grill to high heat. In a small bowl combine pepper, sage and cumin. Pat pork chops dry with paper towels. Score the fat with a few shallow cuts and generously salt both sides of chop; let sit at room temperature for 5 minutes. Brush with oil and evenly coat with the spice mixture. Let rest another 5 minutes.  
Reduce heat to medium-high. If using tomahawks, cover protruding pork chop bones with foil so they don't burn (looks prettier). Place chops on preheated grill. Cook for 6 to 7 minutes per side until 145º, rotating chops once (without flipping over) to create crosshatched grill marks. Cooking time will vary depending on the size and thickness of the chops. Use tongs to remove foil and hold chops over the flame. Sear and crisp any visible fat and make sure bones are fully cooked before removing from grill.
Let chops rest 5 minutes so juices absorb. Platter and serve with Blackberry Marsala Jalapeño Sauce on the side, or on top of each chop. 
---
Blackberry Marsala Jalapeño Sauce
½ cup water
½ cup granulated sugar
3 tablespoons sherry vinegar
⅓ cup dry marsala wine
1 pint fresh blackberries, divided
1 teaspoon jalapeño, seeded and finely chopped
1 teaspoon kosher salt
ground black pepper
2 to 3 tablespoons cold butter, unsalted 
1 teaspoon organic cornstarch, as needed (for thickening)
Reserve ⅓ of the blackberries. In a medium saucepan combine water and sugar. Cook over medium heat until sugar is dissolved. Add sherry vinegar, marsala wine, remaining blackberries and jalapeño. Stir to combine. 
Bring mixture to a simmer over medium heat and cook for 8 minutes, until the fruit begins to soften and sauce reduces by half. Adjust heat as needed; add a small amount of water or wine to prevent scorching. Add the reserved ⅓ of blackberries, salt and pepper and cook another 3 minutes. Remove from heat and let cool slightly. 
Stir in butter, 1 tablespoon at a time, to help thicken the sauce. If the sauce is still watery after it begins to cool, thicken it by combining cornstarch and some pan juices in a small bowl and adding mixture to the sauce, stirring until incorporated. Remove the sauce from heat and add another tablespoon of butter. Taste and adjust seasoning. 
For a spicier sauce, add more jalapeño to taste. The sauce goes well with lamb, game meats and chicken.
Peaches & Cream
Serves 4
---
4 tablespoons unsalted butter, melted, divided
¼ cup plus 3 tablespoons dark rum, divided
1 teaspoon almond extract
12 ladyfinger cookies 
3 large egg yolks
½ cup granulated sugar, divided
½ cup mascarpone cheese, divided
1 cup whipping cream
2 whole peaches
fresh basil or mint for garnish
In a shallow container, combine 2 tablespoons cooled melted butter, 2 tablespoons rum and almond extract. Break ladyfingers in half and dip into butter mixture. Coat each side; don't oversaturate. Place equal portions of ladyfingers into the bottom of 4 tall, wide coupe glasses and refrigerate uncovered. 
In a heatproof bowl, whisk egg yolks and ¼ cup plus 1 tablespoon sugar until light golden and sugar is completely dissolved, about 5 minutes. Place the bowl over a simmering pot of water so bowl does not touch the water and steam is trapped underneath. Whisk the mixture and cook over low heat until thick enough to coat the back of a spoon. Monitor the heat, being careful not to overcook the eggs. To slow the cooking process, remove from burner and continue to whisk. The custard will be thick, pale yellow and 145º to 150º when it's done. 
Remove the bowl from heat and continue stirring while adding 1/4 cup mascarpone cheese and 3 tablespoons rum. Once the cheese is melted and combined, place a piece of plastic wrap directly onto the custard and refrigerate until cool. (The custard can be made a day in advance and stored covered in the refrigerator.) 
Pour or spoon equal amounts of rum-mascarpone custard over the ladyfingers. Chill for at least 4 hours.
Let remaining mascarpone cheese sit for 15 minutes at room temperature until it softens. Whip the whipping cream until thick. Add 2 tablespoons sugar and softened mascarpone cheese. Continue to whip until billowy peaks form. A couple hours before serving, top each dessert with whipped cream. Place back in refrigerator.
Heat the grill to medium-high. Mix remaining melted butter, sugar and rum in a small bowl. Slice peaches in half and remove pits. Brush with vegetable oil. Place cut side down on grill and cook until peaches begin to soften and grill marks are visible, about 4 minutes. Flip and cook another 3 minutes. Place peaches in a bowl and drizzle with butter, sugar and rum mixture. Let cool to room temperature.
Place a peach half on top of each dessert. Add herbs for garnish and serve.
More Stories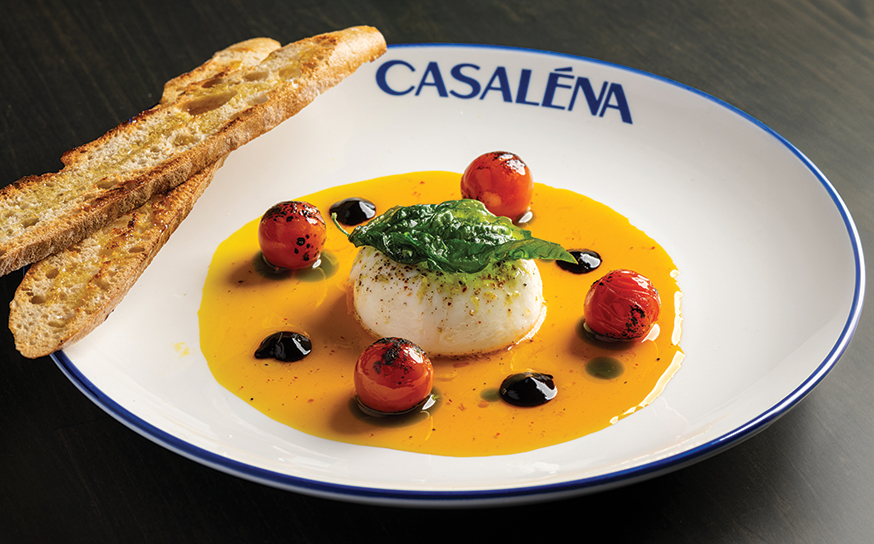 Join the Valley Community
Receive the latest stories, event invitations, local deals and other curated content from Ventura Blvd.
By clicking the subscribe button, I agree to receive occasional updates from Ventura Blvd.