Exciting New Chef, New Menu at Studio City's Firefly
When Firefly opened in Studio City 12 years ago, it set a new standard for drinks and dining in the San Fernando Valley—and has been the leader for a slew […]
When Firefly opened in Studio City 12 years ago, it set a new standard for drinks and dining in the San Fernando Valley—and has been the leader for a slew of other restaurants which have followed.
Firefly has since undergone several incarnations of chefs helming the kitchen—sometimes with mixed results. However, the restaurant has always remained popular due to its very special design and ambience: an inside library bar with banquettes and bookcases, outside dining room with cabanas, candlelit tables, center fireplace, outdoor bar and additional terrace area.
When I dined there last weekend, I was thrilled to discover that the cuisine is better than ever—and finally equally on par with the ambience. The reason: executive chef Paul Shoemaker, a James Beard nominee who was awarded a Michelin star for his cookery at the now departed Bastide. He also worked at many other well-respected restaurants such as Providence and The French Laundry. Combined with the talents of pastry chef, Raymond Morales, and the mixology team of Damian Windsor, Jason Bran, Francis Castagnetti and David Castagnetti, Paul has claimed and recharged an exciting new chapter into Firefly's second decade.
Paul is an avid purveyor of farmers markets, especially Santa Monica on Wednesdays, and says that his menu can change according to the season and what inspires him.
"When I go to the farmers market, I seek colorful and unexpected combinations to highlight the diversity of each ingredient," he says. "The dishes we're doing now strike a balance between thoughtful and amusing as we aim to reimagine ingredients guests see in their grocery stores in an unexpected light."
Indeed the food, desserts and cocktails all have a sense of fun, whimsy and a creative use of ingredients. While the menu is on the pricey side, there is a good value three-course prix fixe offered for $35 to $40 per person, as well as a reasonably priced late-night bar menu. All menus are seasonal and can change according to what's market fresh, but take a look at some current standout dishes on the dinner menu from the last few weeks.
Melt in your mouth: yellowtail hamachi sashimi with ponzu sauce, heirloom tomatoes and pepper cress.
Addictively decadent: chicken liver pâté made with cognac, allspice and butter, topped with apple butter and brown butter powder, seasonal fruit and roasted macadamia nuts, served with grilled ciabatta.
Refreshingly farm fresh: Pudwill Farms fig salad composed of arugula, speck and pine nuts with a burrata base, drizzled with lemon, olive oil, spiced Port reduction and an aged balsamic.
Wishing this was an entree (it's that good—just not photogenic): bone marrow ravioli (three) made with handmade pasta filled with whipped bone marrow, red onion compote and honey, topped with potato and truffle foam.
Sweet, savory and tender: Niman Ranch pork chop surrounded by chanterelle mushrooms, pine nuts and radicchio, drizzled with balsamic vinegar, a Pedro Ximénez grape reduction and garlic-Meyer lemon sauce.
Sweet whimsy splurge: Called the Beautiful Diasaster, this fun and scrumptious dessert by pastry chef Raymond Morales consists of devil's food cake sherbet, a sugar cone filled with "magic" treats and brûléed coffee.
Sweet cocktail: summer sangria made with white wine, peach, cherries and lemongrass.
Firefly, 11720 Ventura Blvd., Studio City, 818-762-1883, Reservations are a must for dinner. Valet parking.
More Stories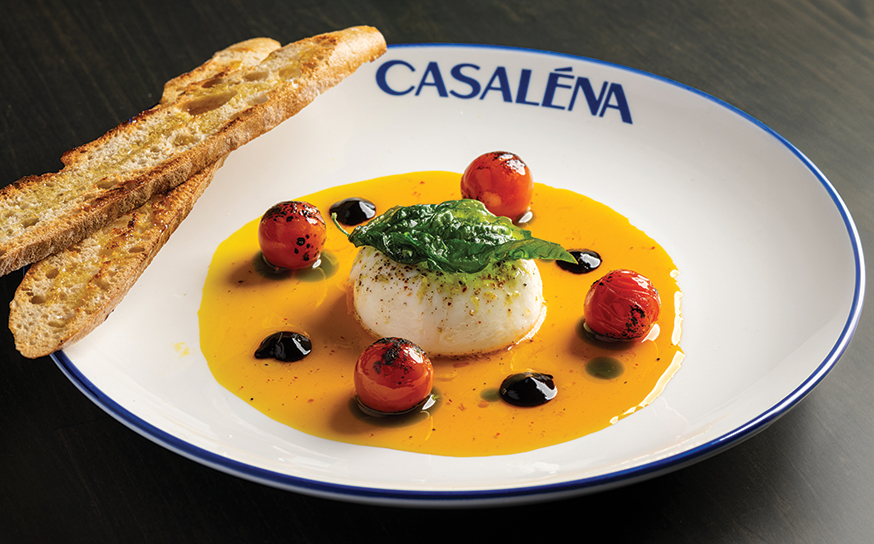 Join the Valley Community
Receive the latest stories, event invitations, local deals and other curated content from Ventura Blvd.
By clicking the subscribe button, I agree to receive occasional updates from Ventura Blvd.