Experience the Arcwood Wine Bar in Tarzana
The pour is just the beginning.
Wine bars often focus more on glasses than plates—as if food is almost an afterthought. Not so at Arcwood Wine Bar in Tarzana. The establishment from longtime hospitality pro Hitesh Ambalal and wife, Trina, offers serious destination dishes, which makes sense since the third member of their team is chef Avner Levi from DTLA's Cento Pasta Bar.
Avner honed his pasta skills while working for Bestia and Sotto—and at Arcwood, it shows. His ridged potato gnocchi with spicy pork sausage ragu, Parmesan butter and chives is a bona fide hit. So is brunch entrée spaghetti carbonara, which comes enticingly coated with sticky egg yolk, pepper and Parmesan.
The chef also has a way with meat. Avner dry-ages rib eyes for a minimum of 21 days and sears each steak on cast iron with butter, rosemary and garlic. Arcwood's Australian Wagyu burger is equally satisfying. A blend of fresh ground chuck, short rib and navel (a fatty cut of brisket typically used for pastrami) is formed into patties, seared and served between soft, steamed buns.
Seafood-packed paella de mar is worth the 25-minute wait. Pans of saffron-stained bomba rice are loaded with chorizo, prawns, mussels, Poblano peppers, parsley and red onions. Herbaceous cilantro aioli and a squeeze of grilled lemon lend balance.
Arcwood serves one wine bar standard: mix-and-match cheese and charcuterie plates with options like spicy chorizo sarta from Spain and firm Promontory cheddar from Utah.
When assembling the wine list, Hitesh prioritized "taste and structure." He sources wine from California and beyond and pours 30-plus bottles by the glass. Arcwood's program is notably democratic. Before any bottle makes the menu, Hitesh gets feedback from his team as well as trusted customers.
Arcwood skips rare, esoteric bottles in favor of approachable vintages from 2009 or newer, eschewing grocery store wine altogether. During one visit, Hitesh eagerly poured two noteworthy Italian reds: Le Sughere di Frassinello from Rocca di Frassinello in Tuscany and a 2015 ripasso from Speri Valpolicella in Veneto.
Weekend brunch focuses on small plates. Warm, crispy latkes honor Avner's grandmother and come with cool sour cream and chives. French toast features La Brea Bakery challah, soft cream, fragrant orange blossom essence and berries. Avocado toast is ubiquitous but Arcwood's version, loaded with ricotta and Meyer lemon vinaigrette, is well worth experiencing. To drink, diners can order bottomless mimosas made with elderflower or white peach or Bloody Marys with soju "vodka," and garnished with skewered prawns and applewood smoked bacon.
"I don't go to restaurants for the food. I don't go to restaurants for the drinks. I go for the interactions, the people and the experiences." At Arcwood, patrons hit the trifecta.
---
Arcwood Wine Bar  |  18636 Ventura Blvd., Tarzana  |  818-578-3098  |  arcwoodrestaurant.com
Arcwood's Hitesh Ambalal shares advice when it comes to pairings.
CONTRASTING NOTES
"In-house pairings are based on contrasted flavors. A spicy dish paired with a fruit forward wine to tame the spice. Or a heavier wine with a little more mouth feel to pair with a light dessert."
WHITE LIGHT
"The easy answer here is seafood and cheese, but for us, we think it's best to pair white wines with lighter dishes as well. The rule of thumb for me is to start with a white during the appetizers/lighter dishes and move on to reds from there."
RED & ROBUST
"I would pair red wines with later, heavier courses. Juicy red meat, lamb or sometimes even chicken wings."
BITES FOR BUBBLY
"It's best to pair champagne with small, salty bites and even brunch dishes. Eggs and oysters are by far the best champagne pairing for me."
More Stories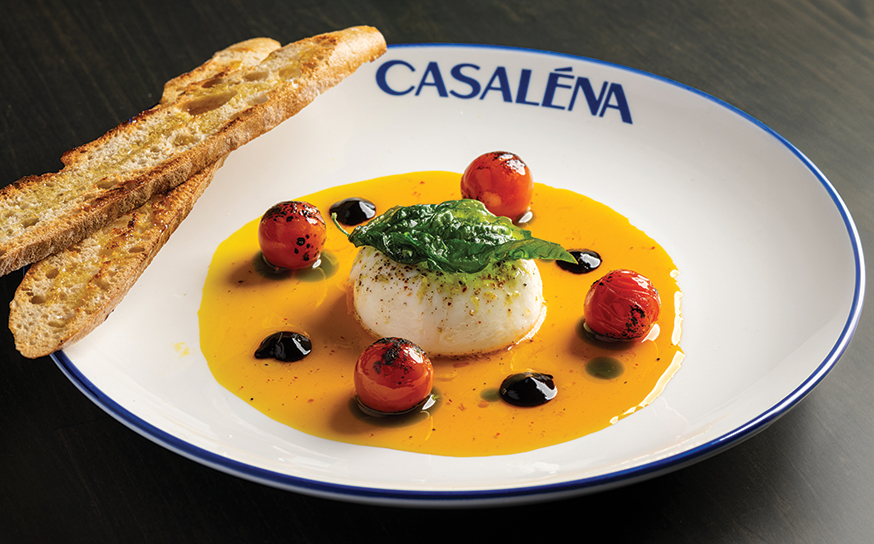 Join the Valley Community
Receive the latest stories, event invitations, local deals and other curated content from Ventura Blvd.
By clicking the subscribe button, I agree to receive occasional updates from Ventura Blvd.