Fame, Fortune and Fajitas
Danny Trejo's life story has more unexpected twists than a movie plot, but it begins and ends in the Valley.
Category

Eat & Drink

Written by

Michalene Busico

Photographed by

Kremer Johnson

Grooming by

Cat Sherwin
The six office dwellers on a late-morning donut run turn around in unison and blink. Yes indeed, the menacing visage on the pink box at Trejo's Coffee & Donuts belongs to the guy standing behind them, quietly waiting to order a dozen. Danny Trejo may be famous for playing the heavy in films such as Heat, Machete and From Dusk Till Dawn, but he is not the kind of guy who cuts the line, even when he owns the joint.
The eatery is Trejo's Cantina in Woodland Hills, the latest and largest addition to the actor's fast-growing empire of LA spots specializing in tacos and donuts—two casual, handheld foods that can be endlessly transformed into distinct personalities—the character actors of cuisine. In fact, the restaurant idea was hatched on the set of Bad Ass, when producer Ash Shah noticed Danny's love of good food. "He said, 'Danny, why don't you open a restaurant?"' the actor recalls. "And jokingly I said, 'Yeah, Trejo's Tacos,' because I love tacos. Then he came to me with a business plan." With a third partner, Jeff Georgino, they debuted Trejo's Tacos on La Brea Boulevard in 2016.
"Since I got out in 1969, I have dedicated my life to helping other people. I honestly believe that when people getting out of prison help other people, they can stay out. They have a purpose."
It took off. "In four weeks, we had bigger lines than Pink's!" he says, referring to the iconic LA hotdog stand. "So we said, 'OK, let's open another one."' Now in less than two years, there are Trejo's Cantinas in Hollywood, Pasadena, USC Village and Woodland Hills, a Trejo's Coffee & Donuts in Hollywood and plans for six more locations. Every item on the Cantina menu, developed by executive chef Mason Royal, is vetted by Trejo, who is especially proud of the vegan and gluten-free dishes. Along with the tender, shredded brisket tacos and bowls of Sunday menudo, there are vegan jackfruit burritos and light, spicy shrimp bowls. The vegan roasted cauliflower taco with grilled corn, pickled red onions and cashew cream was one of the Los Angeles Times Top 10 Recipes of 2017.
"I show up here a couple times a week because I love the food and it's healthy," says Danny, looking fit in a black T-shirt and grey suit. "I went from 195 pounds—I cut out carbs and sugar and dropped 30 pounds—to 165. Not bad for 73 years old!"
From the beginning, Danny was eager to open a Valley location. He lives in Mission Hills and grew up in Pacoima, where his father worked in construction and his mother was a homemaker who dreamed of opening a restaurant. As for the actor himself, "I just ran the streets," he says. "I think drugs and alcohol were the biggest parts of my life." The story of how he went from being a child drug addict to serving time at California's toughest prisons to becoming one of Hollywood's most successful character actors and activists will be the subject of a documentary, to be released later this year. It's titled Inmate #1, after the role Danny most often played early in his career.
His turning point came in 1968 when he joined a 12-step program in prison and got sober. "Since I got out in 1969, I have dedicated my life to helping other people," says Danny, who volunteers with autism groups, animal rescue organizations, and as a drug counselor and speaker. "I honestly believe that when people getting out of prison help other people, they can stay out. They have a purpose."
In 1985, he was called to the set of the film Runaway Train to support someone in recovery. The screenwriter, Eddie Bunker, recognized Danny as a champion boxer in San Quentin, where they both served time, and asked him to coach the actor Eric Roberts. He was added to the film as an extra, and since then, Danny's life has become something that amazes even the man living it: hundreds of film and television credits, including the Netflix documentary released earlier this year, Survivors Guide to Prison. He has three children and a home in Mission Hills, with an eight-car garage filled with collector cars.
"I've always been a car guy," he says. "I have to laugh at guys like Jay Leno—they buy all those cars done. We buy them as shells and build them from the frame up. I'm at Chubby's Automotive on San Fernando Road every time I've got a day off!"
He owns eight lowriders, but the prize of the collection is his blue 1956 Chevrolet Bel Air. "It looks like it just came out of American Graffiti—chopped top, chrome and the trunk! The inside is painted with Jessica Alba, Michelle Rodriguez, all the women I've worked with in movies. So you open the trunk and it's—wow!"
On Sunday mornings, you can find him cruising Van Nuys Boulevard, just like he did when he was 16. "Everybody knows me when they see my car," he says. "I go to San Fernando Park, where all the lowriders go on Sunday. We're all big show offs."
One of his donuts, in fact, is named the Lowrider, a classic cinnamon-dusted creation with none of the wild customizing you find in flavors like the Nacho, topped with cheddar cheese, or the Hail Mary with tangy cajeta. The Lowrider is somewhere between a cake and yeasted donut, lightly eggy and not too sweet. And diet be damned, Danny devours one.
Trejo's Town
Danny's three favorite Valley spots
Los Tres Hermanos Restaurant
"My favorite restaurant in the Valley is Tres Hermanos, the three brothers," Danny says of this casual spot serving classic Mexican fare, and part of a local small chain. "It's just the best Mexican food, OK?" OK!
1049 San Fernando Road, San Fernando  |  818.837.4600  |  lostreshermanos.com
Magaly's Tamales & Mexican Grill
"One of the biggest tamale shops in the San Fernando Valley," says Danny, who is considering buying Magaly's and combining it with a new outpost of Trejo's Cantina. "These tamales are legendary and delicious, and I also go here to eat dinner."
134 N. Maclay Avenue, San Fernando  |  818.837.3524  |  magalysmexicangrill.com
Chubby's Automotive
"This is my favorite place to hang out," says Danny, who spends so much time here working on his cars that he's been mistaken for an employee. "Chubby is the most honest guy in the world—he treats every car like his own car. I used to take my cars to his dad when Chubby was like 12 years old."
14960 Polk Street, Sylmar  |  818.367.1859 —M.B.
More Stories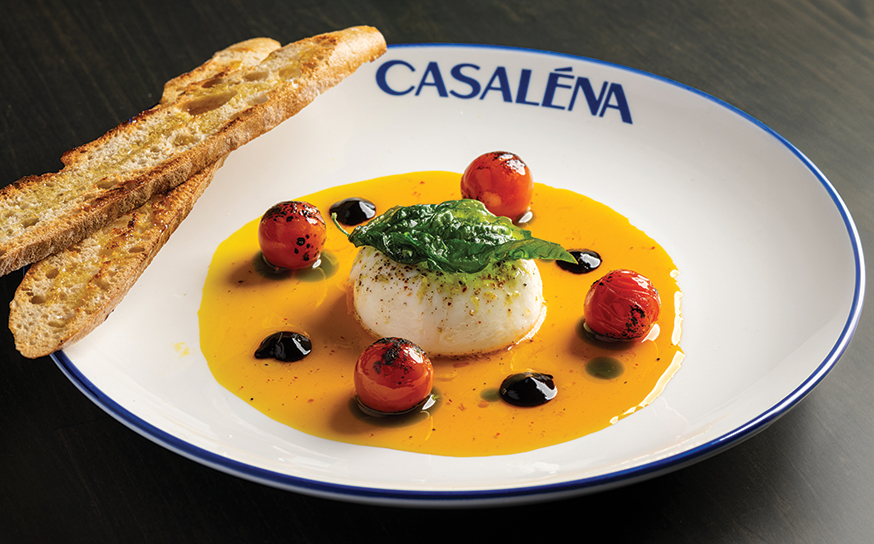 Join the Valley Community
Receive the latest stories, event invitations, local deals and other curated content from Ventura Blvd.
By clicking the subscribe button, I agree to receive occasional updates from Ventura Blvd.