Five Picks for Thanksgiving-To-Go Meals in the 818
Too busy to cook for Thanksgiving and want to ease up on the cleanup load? Check out these five spots in the 818 for takeout to fit varying budgets and dietary […]
Too busy to cook for Thanksgiving and want to ease up on the cleanup load? Check out these five spots in the 818 for takeout to fit varying budgets and dietary needs. (Note the ordering and pickup deadlines.)
With locations in Studio City and Agoura Hills for the 818, Hugo's is offering a Happy Holiday Take Home Feast (also available through the holiday season) that is gluten-free and has a vegan option if desired. This is the best-priced option—a total meal for six costs $89. Choose from a veggie patty, turkey loaf, sliced turkey or chicken breasts; mashed potatoes or yams with herb mushroom gravy; sautéed organic leafy greens; potato pancakes or corn cakes. Also available is pumpkin pie topped with pumpkin seed brittle (vegan and gluten-free), $45 (above). Order no later than 3 p.m. on November 25 for pickup on November 26 from 3 to 8:45 p.m. 12851 Riverside Drive, Studio City, 818-761-8985; 5046 Cornell Road, Agoura Hills, 818-707-0300. Click for menu.
Thanksgiving is à la carte at Joan's on Third, one of Studio City's newest eateries. Start with hors d'oeuvres like zucchini or corn fritters, followed by butternut squash sand pear soup and a wild arugula salad. Oven-roasted turkey can be ordered whole and serves 6 to 8 ($95); or breast only (5 pounds, serves 4 to 6, $50). Sides include: gravy, maple brown sugar yams, mashed potatoes, old-fashioned or vegetarian stuffing, roasted autumn vegetables (above), sautéed green beans and cranberry sauce ($18 to $28). Pies run $26 to $34. Place your order by noon on November 21 and pick up between 9 a.m. and 5 p.m. on November 26. There is a $100 minimum. 12059 Ventura Place, Studio City, 818-201-3900. Click for menu.
Take the guesswork out of cooking vegan with SunCafe's five-course "cooked vegan" and "raw" to-go boxes for $55 per person featuring salad, soup, entrée, sides and dessert. The vegan box includes butternut squash bisque with garlic bread, garlic mashed potatoes, polenta Wellington served with mushroom pate (above), spinach and butternut squash puree. The raw feast includes spicy green beans with slivered almonds and shallots, sprouted rice pilaf, apple fennel walnut stuffing, stuffed Portobello caps and more. Both options come with a slice of pumpkin pie. Also available is a selection of whole pies and seasonal cheesecakes. All pies are vegan, raw and gluten-free; prices vary. Pre-order by Monday, November 24 and pick up between 2 and 10 p.m. on November 26. 10820 Ventura Blvd., Studio City, 818-927-4100. Call for further menu information.
Orders dinners for 4 ($150) or 8 ($280)—or select à la carte options at Sherman Oaks' Sweet Butter Kitchen. The menu includes Diestel Family Turkey Ranch free-range roasted turkey breast and a choice of three sides: herb stuffing, green beans, mashed potatoes, whipped sweet potatoes with pecan streusel, creamed spinach, cauliflower gratin, corned spoon bread or roasted brussels sprouts with cherrywood smoked bacon. Turkey and sides can also be ordered à la carte: small (4 to 6) $20–$25; large (8 to 10), $40–$50; 4- to 5-pound roasted turkey breast, $60. Pies are $34 and serve 8 to 10: pumpkin, apple, pecan (above). Order by November 20 and pick up on November 26 between 2 and 5 p.m. 13824 Ventura Blvd., Sherman Oaks, 881-788-2832. Click for menu.
Studio City's Tuning Fork is offering an à la carte menu with Chef Jay's signature gastropub flair. The main attraction is an herb-marinated, organic roasted turkey and gravy (serves 8 to 10, $75). A vegan option can also be provided—just ask. Sides are priced from $8 to $16 each and serve 4 to 6: choose from cranberry sauce, curried roasted cauliflower, garlicky citrus kale salad, russet cauliflower mash, apple leek thyme stuffing, roasted brussels sprouts with applewood bacon, and yam puree. House-made desserts include whole pies: apple, maple pumpkin and dark chocolate pecan coconut ($16 to $20). All orders must be placed by 5 p.m. on November 21 and picked up on November 26. 12051 Ventura Place, Studio City. 818-623-0754. Click for menu.
More Stories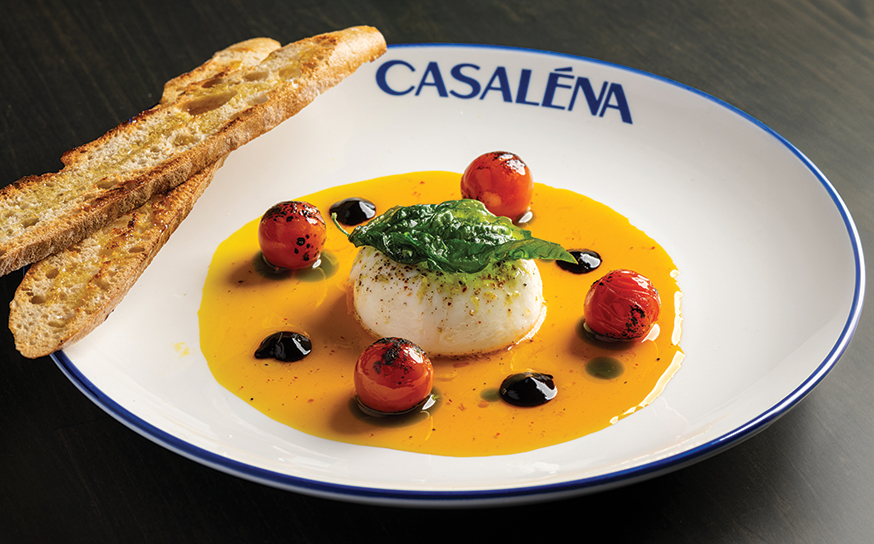 Join the Valley Community
Receive the latest stories, event invitations, local deals and other curated content from Ventura Blvd.
By clicking the subscribe button, I agree to receive occasional updates from Ventura Blvd.