Go French in the San Fernando Valley
You don't have to be French to celebrate Bastille Day on July 14. Think of that day (or any other day!) to experience one of the many multicultural restaurants in […]
You don't have to be French to celebrate Bastille Day on July 14. Think of that day (or any other day!) to experience one of the many multicultural restaurants in the San Fernando Valley. From casual bistro fare to more refined indulgence, there are choices for everyone.
Brandywine
This cozy restaurant with about a dozen booths and tables has been feeding the 818 for nearly four decades and is owned by a husband-and-wife team that make you feel like you are dining in their home. It's definitely on the pricey side but is old-school in the best way. Peruse the menu written on a chalkboard and enjoy such classics as veal chop, steak au poivre (prepared tableside), abalone, chateaubriand and crème brûlée. If you are a fan of bouillabaisse, it is a standout. 22757 Ventura Blvd, Woodland Hills, 818-225-9144
California Canteen
This eatery near Universal Studios is reminiscent of a very casual, neighborhood bistro you might stumble upon in Paris or the South of France with a decor mix of wood, posters and chandeliers.The fare is a combination of French and Mediterranean with a decidedly California twist—with fair prices. Steamed mussels come prepared five ways, and specials include such dishes as osso buco, beef bourguignon and charcuterie (for two) with prosciutto, saucisson, duck liver mousse, dry salami, cornichons and kalamata olives. Wine starts at $7.50 by the glass. True to their French roots, they even serve Lillet, three types of Kir, and Dubonnet. 3311 Cahuenga Blvd. West, Universal City, 323-876-1702, californiacanteen.com
Le Petit Restaurant
Just seeing the red exterior of this Sherman Oaks restaurant evokes feelings of being in Paris. The interior reinforces the look and feel with Parisian wall prints, white tablecloths and Provençal colors. Dine on black mussels poulette, escargot, coq au vin, pommes frites and chocolate for a true French experience that won't break the bank. On Mondays and Tuesday evenings, it's "Lobster Night" (1½ pounds with mashed potatoes and soup or salad for $25.95). Special note: They stir an excellent martini. 13360 Ventura Blvd., Sherman Oaks, 818-501-7999, lepetitrestaurant.net
Le Sanglier
This elegant and intimate restaurant has been a fixture in the 818 for more than 40 years. Enjoy classics such as coquilles Saint Jacques, escargot, filet mignon, baked Brie and more. Their monthly pre-fixe wine dinners are especially popular. 5522 Crebs Avenue, Tarzana, 818-345-0470 lesanglierrestaurant.com
Mistral
With its dark wood, dimmed lights, crisp white-clothed tables and chandeliers, Mistral has that serious French bistro feel. Dine on classics like escargots à la bourguignonne and steak with garlic, parsley and butter. Indulge in a French martini or choose a wine selection from one of the best lists in the San Fernando Valley. 13422 Ventura Blvd., Sherman Oaks, 818-981-6650, mistralrestaurant.com
Nésmon Café and Marketplace
This casual, order-at-the-counter street cafe channels Paris with its sidewalk seating. They serve crepes, tartin sandwiches, salads, eggs, soups, smoothies, coffee, tea (including fresh mint) and patisserie desserts. While you are there, be sure to check out the wall boutique lined with French food and gift imports. 13333 Ventura Blvd., Sherman Oaks, 818-855-8818, nesmoncafe.com
Rive Gauche Cafe
This little hideaway has been quietly serving up French cuisine for lunch, dinner and Sunday brunch in Sherman Oaks for more than 30 years. Eat on the outside brick and flowery patio hidden from Ventura Boulevard. The menu is very traditional, with a varied selection of salads, meat, poultry and seafood. 14106 Ventura Blvd., Sherman Oaks, 818-990-3573
More Stories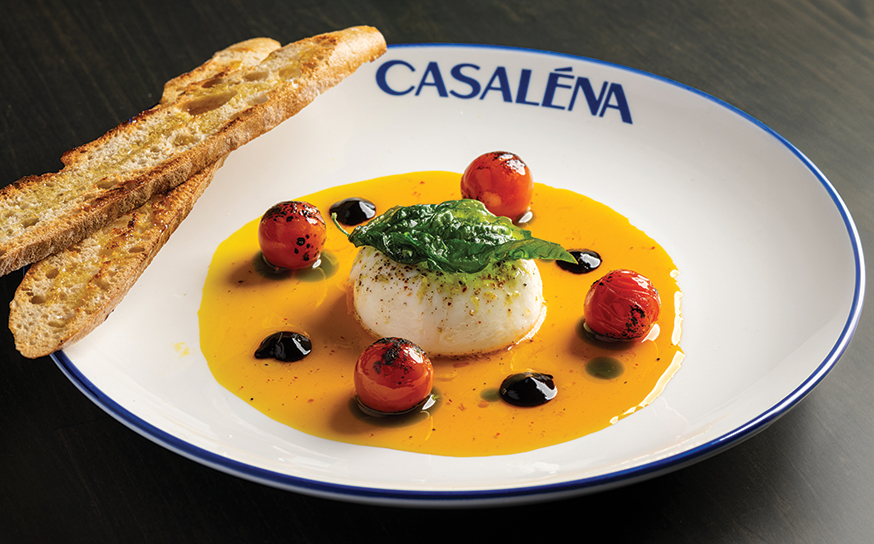 Join the Valley Community
Receive the latest stories, event invitations, local deals and other curated content from Ventura Blvd.
By clicking the subscribe button, I agree to receive occasional updates from Ventura Blvd.