Hugo's Celebrates 35 Years With Special Offers
The original Hugo's restaurant located along Santa Monica Boulevard's Route 66 in West Hollywood is turning 35 this month—and they're bringing the celebration to their younger locales: Studio City (15 years), Agoura Hills (5 years), Hugo's Tacos (10 […]
The original Hugo's restaurant located along Santa Monica Boulevard's Route 66 in West Hollywood is turning 35 this month—and they're bringing the celebration to their younger locales: Studio City (15 years), Agoura Hills (5 years), Hugo's Tacos (10 years).
The festivities are kicking off in Agoura Hills where "Happy Days" is happening through June 30 with $5 classic cocktails; $4 house wine; and $3 bottled craft beers—all day long.
Meanwhile, all Hugo's Tacos locations (Agoura, Studio City and Atwater Village) are celebrating with $2 Taco Tuesdays (hard and soft shells) through June from 10 a.m. to 10 p.m. Choose from seven fillings (meat or veggie) and seven salsas, mild to hot, so you can create your favorite combinations. There's also a special breakfast taco in June, made with scrambled eggs, bacon, seasoned potato and tomato. Must try: the carnitas tacos, which are slow-cooked with garlic, bay leaf and whole oranges and honey chipotle salsa.
Cool trivia: The original Hugo's started out as a butcher shop owned by current CEO Tom Kaplan's father, Terry. It evolved into a restaurant that had a reputation for entertainment power broker deals. Hugo's is said to be the first restaurant in LA to offer fresh roasted coffee and the first to introduce the chai latte (Yogi Tea owner, Guru Simeran, who had developed the first domestic brand of chai, made a finer grind that Hugo's used in their cappuccino machine). Owners Tom Kaplan, Emily Kaplan, Rich Brenner and Leslie Brenner have been partners since opening one of LA's first coffeehouses—Highland Grounds—in 1990 (now closed). Frequent Hugo's diners are called "Hugonauts."
Celebrate at home with a taste of one of Hugo's most infamous dishes: the Original Pasta Mama recipe, which one of the Two Hot Tamales—Susan Feniger (Border Grill, Mud Hen Tavern)—named "The Best Thing I Ever Ate" on the Food Network.
The Original Pasta Mama Recipe
(Serves 2)
5 ounces pasta (about 1/3-pound fresh or dry)
2 eggs, beaten
2 cloves minced garlic
2 tablespoons chopped parsley
1 tablespoon olive oil (or butter)
1 tablespoon water
1 tablespoon fresh grated Parmesan
1 teaspoon dry seasonings: mix ¼ teaspoon each or equal parts of larger amount and save for future use: garlic powder, oregano, seasoning salt, onion powder
Instructions:
Prepare pasta per directions. Over a medium flame, pour oil or melt butter in a 10-inch sauté pan. Add minced garlic and 1 teaspoon mixed seasoning and sauté together 1 to 2 minutes. Add parsley; add pasta with 1 tablespoon hot water. Add beaten eggs and mix thoroughly. Add Parmesan; cook through and serve. Variations: Pasta Mama has as many variations as you can imagine. Add any vegetables you would put in an omelet, other cheeses, sausage, bacon, chicken; adjust seasonings to taste. Enjoy!
More Stories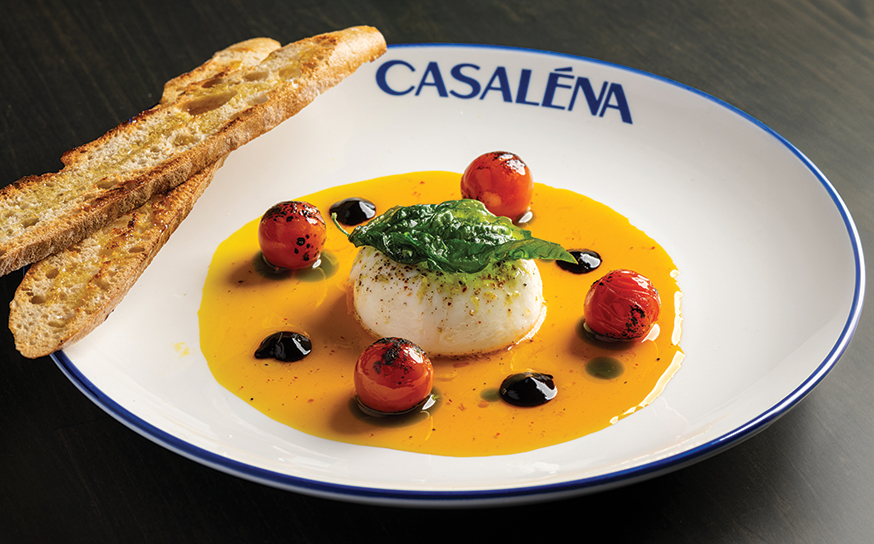 Join the Valley Community
Receive the latest stories, event invitations, local deals and other curated content from Ventura Blvd.
By clicking the subscribe button, I agree to receive occasional updates from Ventura Blvd.