Joan's On Third Arrives
The day has finally arrived. After nearly two years since announcing plans for a second location in Studio City on Ventura Place (home of the farmers market), Joan's on Third […]
The day has finally arrived. After nearly two years since announcing plans for a second location in Studio City on Ventura Place (home of the farmers market), Joan's on Third opened at 8 a.m. on Monday, September 22.
Joan is Joan McNamara, who has somewhat of a cult following for the food emporium she originally opened as a small catering shop on Third Street in West Hollywood nearly 20 years ago—and a few years later expanded into a marketplace/café. It is a destination for those living out of the area, as well as an inspiration for many of the fast, casual "farm" eateries that have popped up in the 818 the last few years—and the closest thing Los Angeles has to New York's Dean & DeLuca.
The venue, a former post office, is a 4,000-square-foot space that has been completely gutted and renovated into a bright, beautiful, slick eatery with an open kitchen, enormously high ceilings, skylights, vintage-look tile floors, single and communal tables, marble countertops, metal fixtures, floor-to-ceiling shelving, baskets, a rustic and modern mix of displays, and an outside patio.
I popped over early Monday morning for some breakfast and to catch a peek. Joan was running around, warmly greeting guests as she is often found doing on Third Street. The whole operation is a family affair: Her daughters, Susie Hastings and Carol McNamara, who work with their mother in catering and marketing, were on hand, as well as a young granddaughter. Susie's husband, Chester Hastings, the head chef at Joan's and also the author of The Cheesemonger's Kitchen cookbooks, was present as well.
Joan shared that the Studio City locale will constantly evolve as they get to know the neighborhood's needs better. As an example, noting that there are more families in the area, she said root beer floats will be introduced soon, as well as cheeseburgers every day after 3 p.m. (a Monday-only special on Third Street).
The kitchen serves breakfast, lunch and a hot dinner menu that is available from 3 p.m. to closing. Service is fast, casual, order-at-the-counter. Some favorites include omelets (the fluffiest in town), New York breakfast sandwich, smoked salmon, corned beef hash, Chinese chicken salad, short rib sandwich, croque monsieur and turkey meatloaf. Catering, gift baskets/boxes, and "to-go" are also major parts of the operation.
One look at the marketplace, and you may never want to cook again. Joan's on Third is literally a one-stop shop with an array of fresh gourmet salads, chicken, seafood, vegetables and more. There is a well-stocked cheese and charcuterie section with fresh Domenico's pasta, plus freezer and refrigerated sections with such items as soups, dressings, dips, chili, tamales, lasagna, mini-cupcakes and more. Curated specialty items on shelves include candy by Little Flower, jams by Sqirl, Stumptown coffee, nuts, olives, imported condiments, cookbooks (including such notables as the Ottolenghi collection and My Paris Kitchen) and so much more. Mother Moo's ice cream and fresh-baked pastries are situated by the coffee bar. Wine is also available for purchase by the bottle or by the glass.
And for those worried about parking, there is a valet for $3 or metered street parking, so it should be hassle-free. Joan's on Third is open daily, 8 a.m. to 9 p.m. 12059 Ventura Place, Studio City, 818-201-3900
Take a glimpse at what you can expect:
Food gurus in the hood: Studio City resident and former Bon Appetit Editor-in-Chief Barbara Fairchild (right) stopped by early on opening day to say hello to Joan (left) who was behind a counter on cappucino duty.
More Stories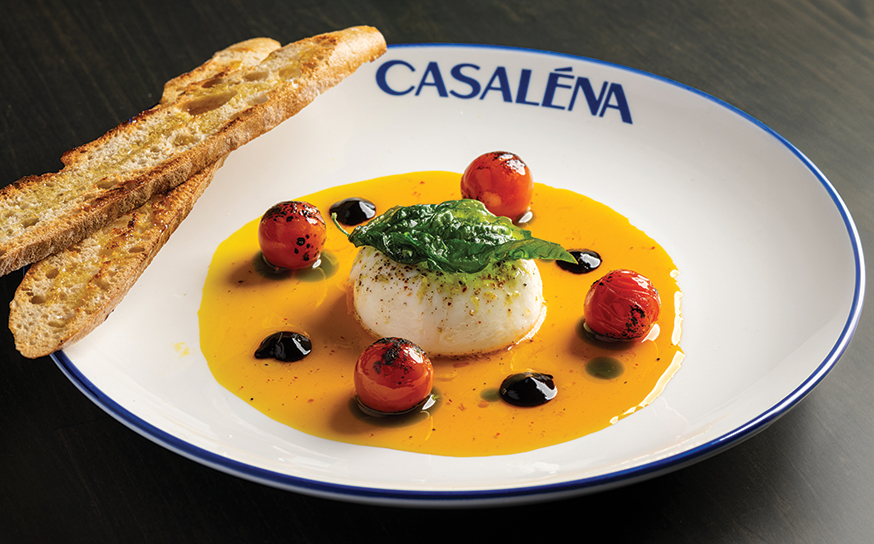 Join the Valley Community
Receive the latest stories, event invitations, local deals and other curated content from Ventura Blvd.
By clicking the subscribe button, I agree to receive occasional updates from Ventura Blvd.