Lucy in the Valley
We loved Lucy and, turns out, she loved us too. The story of how Lucille Ball wound up a Valley girl, reluctantly left for Beverly Hills and, years later, stalked her former home.
Category

People

Written by

Diane Haithman
GROUND SERVICE Lucy gets the mail at the end of the driveway to her Chatsworth home, Desilu Ranch, circa 1940s.
Like many of Hollywood's most glamorous stars, Lucille Ball and husband Desi Arnaz purchased a home in Beverly Hills in the mid-1950s, with a second home in equally glamorous Palm Springs.
But not everyone knows that before Beverly Hills, Lucy's dream house was right here in the San Fernando Valley. Desilu Ranch, as it was called, was a ranch-style home on five acres at the intersection of Devonshire Street and Corbin Avenue in Chatsworth.
Although the "Lucy" home in Beverly Hills remains a landmark stop for StarLine Tours, those closest to the comedian recall that her beloved Chatsworth ranchito was the place she would always call home.
Just ask Thomas Watson, Lucy's former publicist and an unofficial Lucy historian. Thomas says that even after the Arnazes moved out, they would still drive by the old homestead (little did subsequent residents know they were being stalked by TV's most celebrated couple). They were heartbroken when the home was finally demolished in the mid-1970s to make way for subdivision development.
So enamored was Lucy of her first house that she paid the next owner, actress Jane Withers, an unexpected visit after selling the home to her. "She said, 'It was like something out of one of my TV shows,'" Thomas recalls with a chuckle.
The story: After selling Desilu Ranch to Jane, a former child star, Lucy discovered she still had a key to the house. Lucy just happened to be in the neighborhood and found that her friend Jane wasn't home. Well, it seemed a wasted trip not to just open the door and go in.
Lucy, Thomas tells it, was pained to find that Jane had placed her furniture in a different arrangement than Lucy had chosen for her own. Jane drove up as the appalled Lucy was standing in her living room. Said Jane, "Lucy, you are welcome here any time, but you really should call first. Uh, can I have my keys?"
"Lucy describes her frilly decorating style as 'early Victorian' meets 'bastard American.'"
The Arnazes were successful performers—but hardly the TV superstars of I Love Lucy (1951-1957) that they ultimately became when they purchased the property in 1941. Originally the young couple wanted to live on the other side of the hill, but they couldn't find anything in their price range.
One Sunday, while attending a big barbecue at the Chatsworth home of comedian Jack Oakie, Lucy was in tears over the couple's fruitless search. The Oakies sent the Arnazes down Devonshire Avenue to an area of Porter Ranch being subdivided into five-acre parcels.
Tromping through mud from a recent rain to peer in the windows, Lucy and Desi fell in love with an unfinished white ranch house on one of these parcels. According to Lucy's posthumously published memoir, Love, Lucy, they scraped together a down payment for the $16, 900 property surrounded by a white picket fence.
Lucy describes her frilly decorating style as "early Victorian" meets "bastard American." She even added some of her own needlepoint work from her childhood days to the love nest.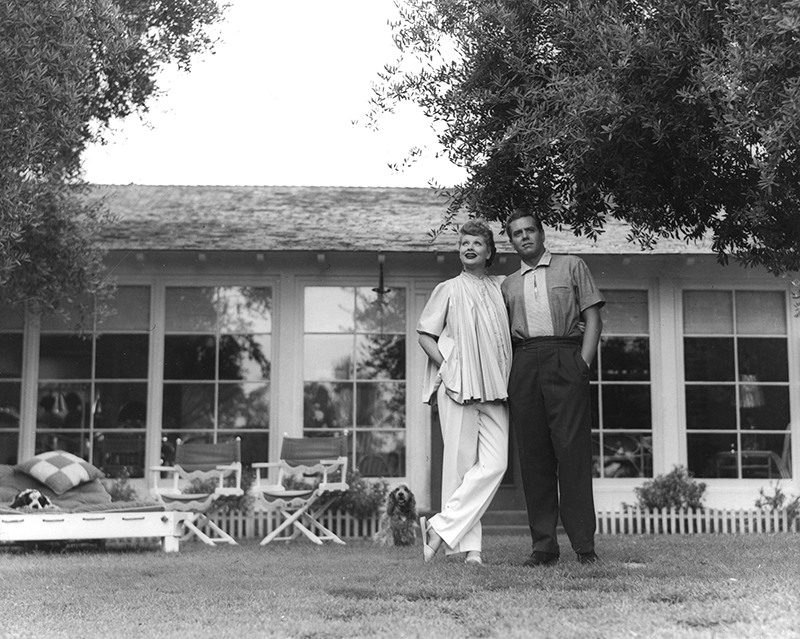 Lucy and her bandleader husband, Desi Arnaz, were both in their 20s when they bought the ranch house, which was designed by renowned architect Paul R. Williams.
For his part, Desi developed the property with multiple small buildings based on the sprawling style of ranch living of his childhood in Cuba. He built a pool and pool house, game room and an enormous barbecue pit. He also planted groves of lemon and orange trees. The property was always a work in progress, with a suntanned Ricky cruising the grounds on his bulldozer.
The Arnaz home was also a haven for animals: dogs, cats and a pig, as well as 300 baby chicks and three roosters acquired as potential dinner but which became pets instead. The Arnazes even had a pet cow, nicknamed the Duchess of Devonshire. In her memoirs, Lucy describes this "large, passionate cow"—as enamored of Desi as the rest of America—crashing through the bedroom window to kiss Desi goodnight.
Lucy borrowed another story involving the Duchess for a "Lucy" episode: As she was leaving the house one morning, some workers stopped by and offered to stain the roof shingles with linseed oil and red paint. Lucy agreed and left them to the task. Unfortunately the windows had been left open, and a stiff breeze was blowing that day.
"I had just had the whole interior repainted and recarpeted, but when I got home that night the entire color scheme was red. The windowsills, the walls, even the cow!" she recalls in Love, Lucy.
The couple loved big parties. Desi became known for his spaghetti sauce loaded with Spanish herbs, and he would never serve it until it was perfect. Lucy describes a "Gay '90s" party where she sported a fright wig and bloomers and blacked out her front teeth.
Along with animals, the Arnazes often took in stray friends. The list included actress June Havoc. As a souvenir from their 1953 movie The Long, Long Trailer, Lucy and Desi kept the actual trailer used in the movie, and June was a frequent trailer guest.
The multiple buildings on the property also provided sanctuary for Desi during the couple's legendary fights. You've got to wonder whether neighbors noticed one early morning when an enraged Lucy used a hammer to smash the windows of their station wagon (a popular story recounted numerous times, including by Lucy).
But accounts of their tumultuous relationship also include such romantic details as Desi's surprise 30th birthday gift to his faux-redheaded bride: a Latin combo leading 40 friends in a "Happy Birthday" serenade by their swimming pool, blanketed with floating white gardenias.
Tom Watson says the Arnazes would have stayed forever in what Lucy called their "dollhouse" except for two things: Los Angeles traffic and I Love Lucy. Post-war suburban sprawl began to engulf their neighborhood, bringing with it cars—and traffic that made commuting to MGM in Culver City or RKO studios in Hollywood a nightmare.
Today's TV viewers still enjoy in reruns the birth of the fictional Lucy and Ricky Ricardo's "Little Ricky." The episode aired January 19, 1953, the same day as the actual birth of Desi Arnaz, Jr. The event sent the show into the rating stratosphere, but the Arnazes also began receiving death threats and kidnapping threats. "Memories of the Lindbergh baby flashed in their heads," Thomas says.
The Arnazes gave up their dream house to move to Beverly Hills, to a home with a wall around it. No commemorative plaque marks the site in Chatsworth. Still, Thomas jokes that the legend lives on in real estate ads. "I saw one about 10 years ago: 'Lucy and Desi's Dream House Available Now.' It was very similar in design but blocks away from where the house was."
More Stories