Now Open: Idle Hour Noho
What: History has been preserved, re-invented and re-imagined in North Hollywood with the opening of Idle Hour. And because of its history, it is basically the most exciting place to hit Noho—and the Valley—in a […]
What: History has been preserved, re-invented and re-imagined in North Hollywood with the opening of Idle Hour. And because of its history, it is basically the most exciting place to hit Noho—and the Valley—in a long time.
The Players: 1933 Group, known for their group of "vintage bars" stretching from the Eastside to the Westside of Los Angeles, including: Bigfoot Lodge, Thirsty Crow, Oldfield's, Sassafras, La Cuevita and Harlowe. All have been invented concepts, but as owner Bobby Green says, "This is the first time we get to restore history."
The Trivia: Idle Hour Café (as it was called) was commissioned in 1941 by Michael Connolly, a film technician at Universal Studios, and built as an example of "programmatic architecture"—meaning buildings that look like the things they serve. In this case, it was built as a whisky barrel for its purpose as a taproom, which flourished through the 1960s. Other examples of this architecture include The Brown Derby (hat), Tail o' the Pup (hot dog) and Randy's Donuts. It was the time of the auto boom, and the buildings were easier to spot as people drove by.
The Story-in-Brief: In 1971 the building changed hands and turned into a flamenco dinner theater called La Caña Restaurant, complete with red carpet, velvet-flocked wallpaper and a painted white exterior. It was owned by Dolores Fernandez, who closed it in 1984 but remained and lived alone inside a second-story apartment at the top of the barrel until 2009. Although the building was in a dilapidated state, Chris Nichols (a historian and preservationist who also writes the "Ask Chris" column for Los Angeles Magazine) fought for its achieving landmark status, and in 2010 it became Los Angeles Historic-Cultural Movement #977.
The Reinvention: The building went up for auction in 2011. Chris contacted Bobby Green of the 1933 Group to tell him about it. Bobby jumped on it as he was already familiar with the building. "I grew up in Studio City and always remember driving by it."
For the last four years, Bobby and his partners, Dimitri Komarov and Dmitry "Dima" Liberman, have methodically worked to keep the historical status and architectural integrity of the building intact—complete with original stained glass barrel art on the ceiling and duplicated on every door, wood doors with iron embellishments, original (they were able to recycle 60%) and reclaimed wood, consistent accessory styling and more. Black-and-white photographs on the walls pay tribute to the history, people, architecture and cars of the time.
Inside there are low and high, cozy, cedar tables. They've also added a sleek back patio anchored by a sprawling ficus tree, a communal fire pit, picnic tables and wood booths. And it's dog-friendly.
Added Fun: The Bulldog Café (a copy of the original pipe-smoking icon that sold ice cream and tamales) is located on the back patio with room for 15 and is available for small parties—or to just hang out when not reserved. It was taken apart in eight pieces and forklifted from its home at the Peterson Automotive Museum.
The Bar: There are three—two inside and one mobile outside. Chris Amirault of Harlowe oversees the neighborhood bar, with 24 beers and cocktails on tap and classic-inspired drinks, rotating beer cocktails, create-your-own boilermakers, and seasonal and handcrafted brews.
The Food: Chef Sam Hoke is serving up American comfort classics—circa 1941 with a twist. Right now the soft opening menu is available: expect steak frites, beer-battered fish and chips, sloppy joes braised in bourbon and cinnamon, deviled eggs, mac 'n' cheese and more. By summer they'll be smoking barbecue on the patio.
The Verdict: Cool and casual—the perfect place to come for a drink and a bite to relax with friends. You can actually feel the history of the place coming through the walls.

Idle Hour, 4824 N. Vineland Ave., North Hollywood. Open seven days a week, 11 a.m. to 2 a.m., 818-980-5600
More Stories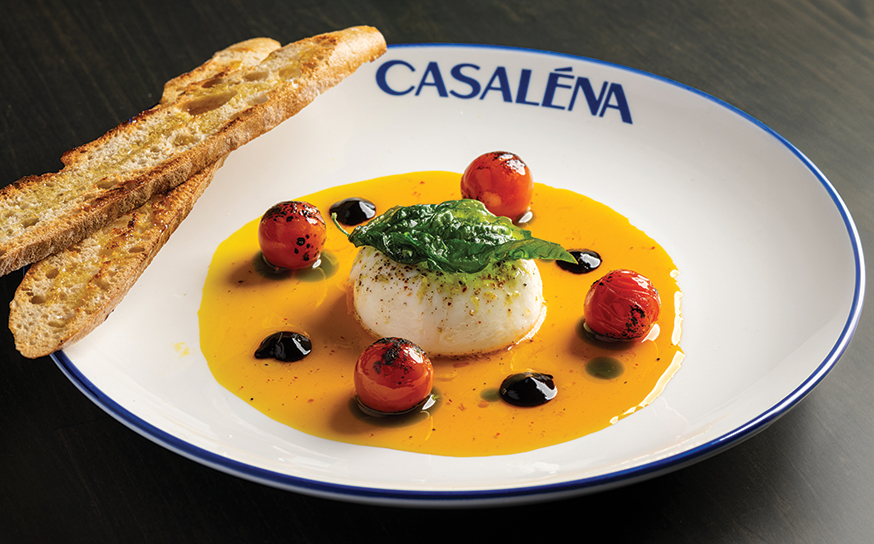 Join the Valley Community
Receive the latest stories, event invitations, local deals and other curated content from Ventura Blvd.
By clicking the subscribe button, I agree to receive occasional updates from Ventura Blvd.