Our Favorite Holiday Bread Recipe with all the Toppings
Category

Eat & Drink

Written, produced & photographed by

Kara Mickelson
RUSTIC HONEY CREAM BREAD
Makes 1 large or 2 smaller loaves
---
With substance from wheat germ and depth from honey and cream, this bread feels decadent enough to serve for the holidays but is also terrific for everyday use. Whip up the starter the night before and make the recipe the day-of for fresh bread to toast.
Starter
¾ cup whipping cream
1 tablespoon fresh-squeezed lemon juice
2 tablespoons water
2 teaspoons mild-flavored honey
1 teaspoon active dry yeast
1 cup all-purpose flour
Mix cream and lemon juice in a bowl or pitcher and let stand at room temperature for 15 minutes. Stir in water. Warm mixture in microwave for 30 seconds. Stir in honey. Sprinkle yeast on top and lightly stir to mix. Let rest 5 minutes until yeast bubbles or looks frothy. If there is no activity in 5 minutes, start with fresh yeast. Add flour and work into a sticky paste with whisk or fork. Cover container with plastic wrap and let rest at room temperature in a draft-free location overnight or until doubled in size (6 hours minimum).
---
Bread Dough
1 teaspoon active dry yeast
1 cup warm water*
3½ cups all-purpose flour*
2½ teaspoons salt, divided
1/3 cup wheat germ, not toasted
olive oil
*Measurement is approximate; use more as needed.
Sprinkle yeast over starter and massage to combine. Slowly add water in small increments to mixture and then work in ½ cup flour at a time until fully incorporated. Knead in wheat germ. As flour and water combine, dough will look shaggy and then form a soft, pliable dough that should feel smooth and elastic, not dry or sticky. Work 2 teaspoons salt into dough and turn onto a smooth, clean work surface. Knead dough with the palm of your hands in a rolling fashion. Work dough into a smooth ball, kneading about 10 minutes. Use both hands to tuck dough under the bottom, rolling, pinching and pushing it together to create a smooth top surface.
Place dough ball in a large, lightly oiled bowl. Cover bowl with plastic wrap. Let rise in a warm, draft-free location for 1½ hours or until dough has doubled in size.
Punch expanded dough to release air. Turn onto a clean work surface and knead until smooth, about 2 minutes. Shape into a large ball or two smaller discs. Place on a baking sheet covered with parchment paper. Score dough top with a sharp razor and dust with some flour.
Cover with a clean, damp kitchen towel and let rise at room temperature until doubled, about 30–40 minutes. Sprinkle top with remaining salt. Bake until golden brown crust forms and dough sounds hollow when thumped, about 35–40 minutes. Let cool on a wire rack before cutting. Serve toasted with your favorite toppings.
CHOCOLATE GANACHE WITH SALTED PISTACHIOS
Makes about 1 cup
---
½ cup dark chocolate chips (at least 60% cacao)
¼ cup whipping cream
1 teaspoon butter, unsalted
1 teaspoon instant espresso
2 tablespoons salted pistachios, chopped
Place chocolate chips in a medium bowl. Heat cream to a simmer in microwave on high, about 40 seconds. Pour hot cream over chocolate chips. Slowly stir until all chips are melted. Stir in butter and espresso until completely incorporated. When ganache mixture cools, place in refrigerator for 1 hour or until firm. Before using, heat in microwave for 10 seconds until pliable. Spread a generous amount on toast and top with pistachios.  
STRAWBERRY, ASIAN PEAR & GINGER STOVETOP JAM
Makes 1 cup
---
Ditch the canning jars and complicated instructions. This recipe is quick and easy and comes together with a few simple ingredients. It is great on pancakes too!
1 (12-ounce) package frozen strawberries
½ Asian pear, seeded, diced small
1-inch piece fresh ginger, peeled, finely grated 
¼ cup mild honey
1 orange slice, seeded
¼ cup fresh orange juice
1 tablespoon fresh lemon juice
Place all ingredients in a medium saucepan and bring to boil. Cook over medium heat until almost all liquid is evaporated. Stir constantly so honey doesn't burn; add a small amount of water if necessary. Remove from heat and cool. Store refrigerated for up to 5 days. 
SPICED BUTTERED RUM COFFEE
Serves 1 (6-ounce coffee or 4-ounce espresso drink)
1 tablespoon butter, unsalted
¼ cup dark rum
2 cinnamon sticks
¼ teaspoon vanilla extract
1 tablespoon dark brown sugar (preferably muscovado)
4 ounces strong brewed coffee or 2 ounces espresso
¼ cup fresh sweetened whipped cream
1 teaspoon white chocolate curls
In a small saucepan over medium heat, melt butter. Add rum, 1 cinnamon stick, vanilla, and brown sugar. Bring to a boil, stirring constantly, until sugar dissolves. Turn off heat and remove cinnamon stick. Leave saucepan on burner to keep sauce warm. Pour coffee or espresso into a mug; add buttered rum mixture. Top with whipped cream, sprinkle with white chocolate curls and garnish with a cinnamon stick.
More Stories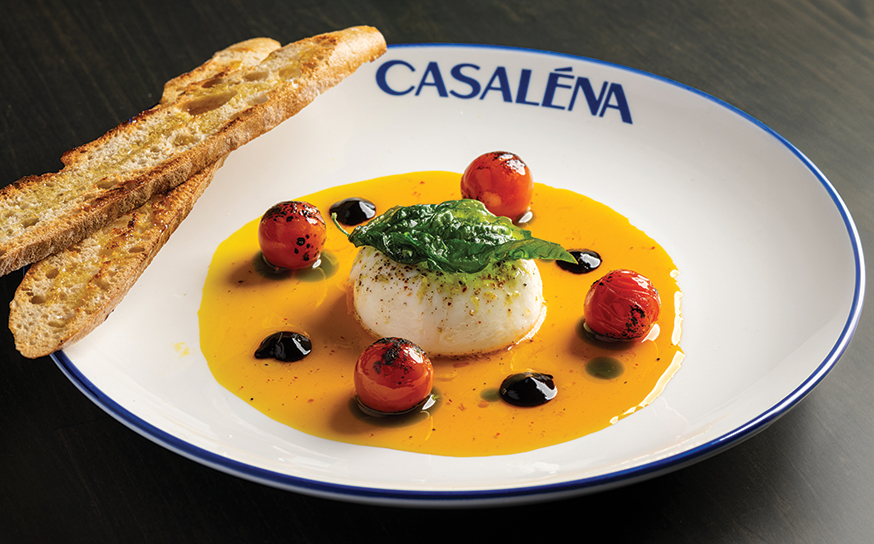 Join the Valley Community
Receive the latest stories, event invitations, local deals and other curated content from Ventura Blvd.
By clicking the subscribe button, I agree to receive occasional updates from Ventura Blvd.