Picnic Boxes: 5 Local Spots to Grab-and-Go
With the outdoor summer concert and movie season in full swing, kick up the flavor and fun with this "not-your-usual-suspects" picnic hit list.
BLVD Kitchen
(Pictured above)
This multifaceted Sherman Oaks culinary center offers signature boxes that include small plates, cutlery and napkins (serves 2, $60 to $75). Among the selections are sliders (caprese, turkey and Havarti, chicken) or salads (southwest grain or chicken in lettuce cups). Each box comes with a salad, such as the popular Asian Crunch and Italian Grain; a dipping or spreading side (hummus, tapenade, cheese); and freshly baked cookies, brownie or biscotti. Also available are "grazing boxes" for 2 to 4 ($55 and $100) filled with crudité and hummus, tapenade, assorted cheeses, grapes, dried fruit, nuts, pickles, crackers and jams. Add cured meats and mini-dessert samplers for $10 to $20. Boxes require 72 hours advance notice.
Cheesemongers of Sherman Oaks
This gourmet shop offers picnic boards with disposable utensils and napkins packed for easy transport with daily selections of two cheeses, one cured meat, cornichons, olives, dried fruit and Marcona almonds (serves 2 to 3, $20). Add-on possibilities: a fresh baguette, crackers and tapenade. Make it sweeter with a Dick Taylor chocolate bar or Bertha Mae's Brownies for dessert. Daily sandwich specials are available for $8 and can also be prepared quickly on the spot.
Jayde's Market
Situated in the Beverly Glen Center, just a stone's throw from Mulholland, this farm-fresh, family-owned market is the perfect one-stop food shop for those traveling over the hill. Check out the deli counter for locally sourced, grab-and-go selections or order from the picnic menu for 2 ($60). Choose two entrees: organic rosemary grilled chicken breast, seared ahi, grilled salmon, a choice of sandwiches on freshly baked bread, or a cheese and charcuterie board. All include a pasta salad, fruit salad, homemade cookie and a bottle of S.Pellegrino. Bonus: There's also an impressive wine selection.
Sugarfish
Switch up the traditional picnic with a modern sushi bento box. Go with one of the four "Trust Me" options ($25 to $38) packed with color photos and instructions about how to properly eat and sauce (or not sauce) the sushi. All are served with organic edamame, tuna sashimi, albacore sushi, salmon sushi, yellowtail sushi, toro cut roll and crab cut roll. The amount served differs with the box size. À la carte is also available. Locations in Calabasas and Studio City.
Village Gourmet Cheese and Wine
This gourmet specialty shop in Studio City's Tujunga Village may be tiny in size, but it is giant in inventory—packed with options for masterminding your own picnic basket. Easier: Order from the picnic menu. Single menu choices include curried chicken salad along with four sandwich options, served with a side salad and homemade dessert ($16.95 to $22.95). Cheese and charcuterie picnics for 2—in several variations—run $46.95 to $48.95.
SAUCEY BITES
Left: The Bellwether in Studio City Right: Tocaya Organica in Toluca Lake
SAUCEY BITES: Restaurant News in the 818
Viva Italia! The Bellwether in Studio City recently added five handmade Italian pasta dishes to the menu ($18 to $22). Executive chef/co-owner Ted Hopson reflects on what the decision to broaden his repertoire means to him and co-owner/beverage director Ann-Marie Verdi: "As The Bellwether evolved and matured, we have always kept it changing. This time we wanted to make a change that was meaningful to us. We grew up eating Italian food every day. It is our heritage and our passion, so it makes The Bellwether even more of a representation of who we are."
New Opening: Tocaya Organica, a modern, Mexican-inspired restaurant chain with a healthy edge, just opened in Toluca Lake. Known for salads, bowls, burritos and tacos, the counter-service menu features locally sourced organic ingredients that accommodate vegan, gluten-free and keto dieters. This location also serves beer, wine and margaritas made with sabe blanco (60% tequila, 40% rice wine). The Riverside Drive space is bright and airy, with a design that utilizes various textures, seafoam greens, warm woods, geometric lighting fixtures and decorative tiles for a stylish, bohemian appeal.
More Stories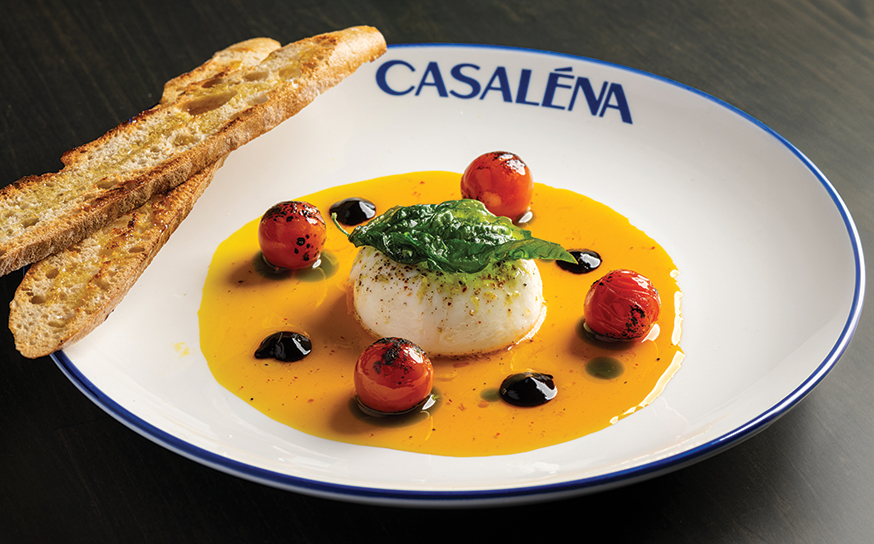 Join the Valley Community
Receive the latest stories, event invitations, local deals and other curated content from Ventura Blvd.
By clicking the subscribe button, I agree to receive occasional updates from Ventura Blvd.