Revving Up
There's fast food, and then there's under-three-minutes food. Pizza Rev—the "craft your own" pizza joint that allows you to choose your own sauce, cheese, and toppings—is one of the latter, […]
There's fast food, and then there's under-three-minutes food. Pizza Rev—the "craft your own" pizza joint that allows you to choose your own sauce, cheese, and toppings—is one of the latter, and this past week it opened its doors in the Burbank Town Center. With the original location in Northridge, as well as a Studio City branch, this is the sixth location with another one scheduled to open in Van Nuys early next year.
The space is similar in function and design as the other locations, although this is the first one to feature a "Rev It Up" station where there's a smattering of hot sauces (Tapatío, Sriracha, Jalapeno Tabasco, etc.) from which you can choose to finish off your pizza.
We'd personally think Burbank is in need of more homegrown restaurants, rather than franchises—even ones that we are proud to say were established in The Valley. However, with Pizza Rev opening in the plaza that houses Burbank's AMC theatres, we do think that this particular location gives movie-goers an option for a speedy pre-flick bite.
For those of you out there that have been living under a rock, the concept of speedy, assembly line pizza was first born out of 800 Degrees—the Westwood pizza joint co-founded by Adam Fleischman of Umami Burger fame. While 800 Degrees channels a Neapolitan-inspired pie with supple, doughy crust, Pizza Rev boasts a Roman style crust, which is thinner and crispier than the former. At the Burbank location, Pizza Rev utilizes a 9,600 pound stone-hearth oven set at 900 degrees, which allows the pizza to cook in a mere three minutes.
We're on board with Pizza Rev's unlimited-toppings policy, meaning you can add any number of meats and vegetables for a set price of $7.99. We like the sweet fennel sausage and spicy chorizo when it comes to protein options, along with the sundried-tomatoes on the veggie side.
The Rev also offers a menu of non-customized pizzas including a Mediterranean rendition with white sauce, feta, and artichoke hearts, as well as a version featuring crumbled beef meatballs, Italian sausage, and jalapenos.
So there you have it—your next dinner and a movie date night. Dinner will be so quick, it's practically speed dating.
Pizza Rev, 175 E. Palm Avenue, Burbank. (818) 238-0149.
More Stories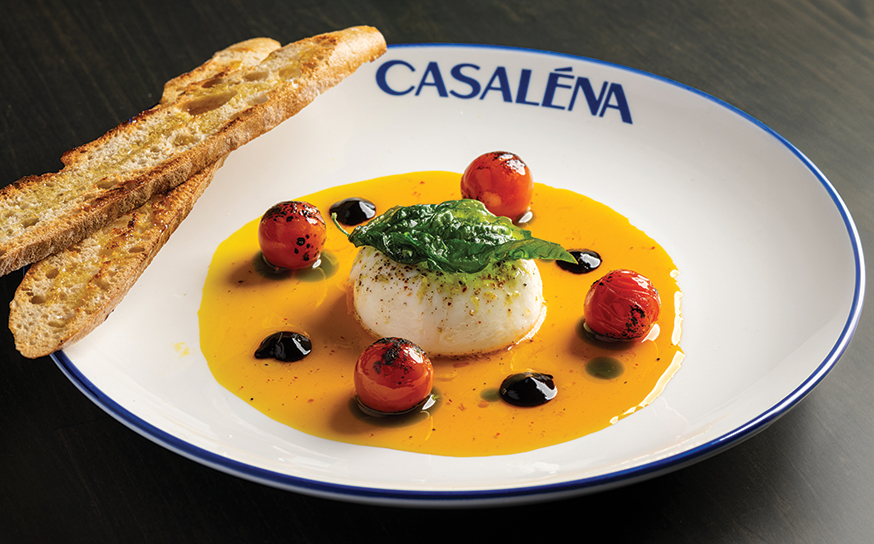 Join the Valley Community
Receive the latest stories, event invitations, local deals and other curated content from Ventura Blvd.
By clicking the subscribe button, I agree to receive occasional updates from Ventura Blvd.