Salon at The Federal Bar Serves Craft Cocktails Upstairs
The Federal Bar, a gastropub and performance venue in the NoHo Arts District, became even more interesting over Thanksgiving weekend. Damian Windsor, one of LA's most respected bartenders, helped launch […]
The Federal Bar, a gastropub and performance venue in the NoHo Arts District, became even more interesting over Thanksgiving weekend. Damian Windsor, one of LA's most respected bartenders, helped launch a third-floor bar called Salon featuring fine craft cocktails. The bar took four years of planning and is now paying spirited dividends.
Windsor, who's worked behind bars like The Roger Room and The Warwick, was attracted to the "pretty room," proximity to home and the growing interest for cocktails in the Valley, as typified by The Fiscal Agent and Bar Tribute. He created a focused, two-sided cocktail menu that includes classics and signature variations. You will find an appropriate glassware icon pictured next to each cocktail description, which comes in handy.
Beverages are not just brown and stirred. "Aesthetic standouts" include a mule-inspired Horse's Neck that contains Laird's applejack, ginger beer, Angostura bitters and citrus oil. Tequila Por Mi Amante pairs Pueblo Viejo tequila blanco with Chaberyzette (strawberry vermouth) and a pickled watermelon skewer. Suissesse is an old New Orleans-style cocktail that combines absinthe, creme de menthe, cream, egg white, grated almond and mint.
If you're looking for an alternative beverage, Salon also pours two beers and red and white wine. No matter what you order, ice comes from a premium Kold-Draft machine.
The space touts velour wallpaper and brick, lounge seating in a library with red velvet drapes, a baby grand piano, Edison lighting and a wall counter with stools. A wood bar adjoins an island bar. Damian called the Salon "intimate. The space is comfortable, warm, dark colors without being drab. It is familiar, and it's kind of like a living room and kind of like a bar at the same time."
Call ahead to make sure the Salon is open, since performances in the adjacent showroom sometimes take priority. You can generally count on cocktails Tuesday, Wednesday and Thursday nights from 8 p.m. until late.
5303 Lankershim Blvd., North Hollywood, 818-980-2555
More Stories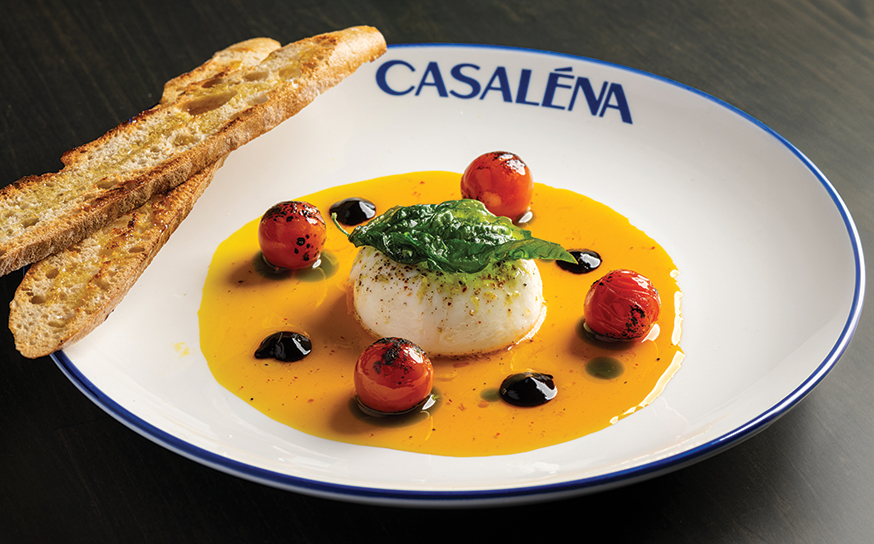 Join the Valley Community
Receive the latest stories, event invitations, local deals and other curated content from Ventura Blvd.
By clicking the subscribe button, I agree to receive occasional updates from Ventura Blvd.