Tasty Tidbits: Restaurant News and Specials
Just in time for winter comes an eatery with the perfect comfort food: Spread PB Peanut Butter Bar. Opening in early December in the Studio City center anchored by Peet's, this specialty shop will serve […]
Just in time for winter comes an eatery with the perfect comfort food: Spread PB Peanut Butter Bar. Opening in early December in the Studio City center anchored by Peet's, this specialty shop will serve all things peanut butter in a "build your own" style with custom-made flavors. Valley natives Dustin Alpert and Katie Kerr, co-founders of the nutty shop, are 2006 Campbell Hall graduates.
Look for flavors such as curry, coconut, banana, dark chocolate and cinnamon raisin (plus many more), along with almond butters as well. Bread choices will include gluten-free. Expect custom-built sandwiches with topping choices such as bacon, chicken, strawberries, marshmallows and more. If carbs are an issues, celery and apple will be among the low-carb options to lay down the butter. Other peanut butter alternatives will include smoothies and oatmeal. They will also offer signature sandwiches, such as "The Dogwich" (hot dog bun, banana, choice of spread and two toppings of your choice). Stay tuned.
Peasant Wine Bistro in Tarzana is taking a turn from its traditional wine offerings on Monday, November 17 with a five-course sake tasting/pairing event from 5 p.m. to 7 p.m. Sake expert Shinji Mase will be on hand to discuss the differences between aged, filtered and unfiltered sake. The menu includes: salmon carpaccio, ahi tuna and scallop crudo, spicy coconut shrimp, chicken kaarage and BBQ Korean shortribs. $45 per person. RSVP online or email eat@winepeasantbistro.com. 818-708-7081
The Counter has been rolling out a new menu in phases over the last few months that expands on its "build a burger" theme. The new offerings look rather interesting with a little something for every craving. There are a few salads, sriracha fries and burgers, including one with Korean beef. What really looks fun is "build your own grilled cheese": choose any three cheeses and add as many toppings from the BYOB menu as you'd like—as pictured above (yellow American, smoked gouda and Tillamook cheddar melted with a tomato and Applewood smoked bacon).
A meat dessert? Looks like Umami has zeroed in on pumpkin latte mania and tossed their bun in the ring with a new special burger. The Pumpkin Spice Latte Burger is a Umami burger with pumpkin spice-flavored mascarpone, roasted garlic aioli, tempura kabocha squash and coffee molasses glaze. At least they use real pumpkin. The cost is $12 and is available through the winter season. We haven't taste-tested yet, so let us know your thoughts.
More Stories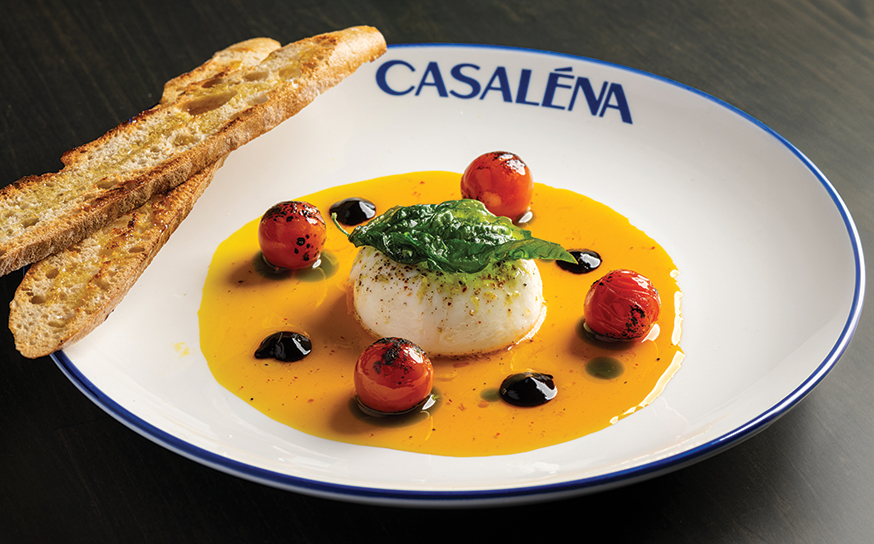 Join the Valley Community
Receive the latest stories, event invitations, local deals and other curated content from Ventura Blvd.
By clicking the subscribe button, I agree to receive occasional updates from Ventura Blvd.