The Vacation of a Lifetime on Marlon's Private Island in Tahiti
When Marlon Brando reached the shores of Tahiti in 1962 to film Mutiny on the Bounty, he began a love affair with the stunning French Polynesian island—and a local beauty, his costar Tarita Teriipaia. His passion for this floating gem in the Pacific and its people was evident when he later wrote:
"From the moment I saw it, reality surpassed even my fantasies about Tahiti, and I had some of the best times of my life."
He soon set his sights on the neighboring atoll of Tetiaroa ("the one who stands apart"). With its pristine white sand beaches and crystalline lagoons, this paradise was once an exclusive getaway for Tahitian royalty. Brando was granted a 99-year lease, giving him exclusive rights to this haven for birds, sea turtles and marine life. His dream was to maintain the island in its purest condition, while allowing others to enjoy it. A decade after his 2004 death, his dream was realized. The Brando opened its doors in 2014, becoming the region's most formidable sustainable luxury resort.
Looking for a special place to celebrate our 25th anniversary, my husband and I boarded a 7½-hour direct flight from LA to Tahiti, followed by a 15-minute puddle jumper on The Brando's private prop plane. Upon our arrival, our butler assured us that not a single hitch would interrupt our five-night stay. Vanilla-infused cold towels and chilled drinks were presented alongside our personalized itinerary; The Brando has it down when it comes to attention to details. 
Above Left: Entryway to Les Mutinés, The Brando's fine-dining restaurant.
•••
The resort features 32 villas, each including a bedroom, living room, office/TV room, outdoor bathtub and shower, and private pool. The most impressive detail was having our own private beachfront on quite possibly the most beautiful beach I had ever seen.
Experiencing The Brando can be as relaxing or active as you desire. Beach it or take advantage of activities that include snorkeling among black-tipped sharks and stingrays, reef kayaking, diving, fishing, stand-up paddleboarding, an eco tour, or the two-hour "ultimate" tour.
As we stepped into the Varua spa, we marveled at the lush palm trees and enormous pond, where fish jump, as if to entertain guests. I caught myself looking for the guy with the walkie-talkie orchestrating all this magic.
The Brando offers three main dining options: Nami, a teppanyaki grill; the casual Beachcomber; and a fancy French restaurant, Les Mutinés. We enjoyed all three, but by week's end, our favorite was a beachfront hut called Bob's Bar. A simple lunch of smashburgers (one of Brando's favorites) and sweet potato fries, capped off by a deliciously sinful ice cream sundae, proved irresistible. While enjoying "Dirty Old Bobs" —the resort's version of a whiskey sour—we perused a curious journal filled with musings from Brando himself. 
The writer taking it all in.
Despite its many indulgences, the resort maintains a strong commitment to sustainability. It has a LEED Platinum certification and is almost carbon-neutral. Solar panels power the resort, and innovative technology pulls cold seawater up from 3,000 feet below to cool the buildings. They're also partners with the Tetiaroa Society, a conservation and research organization devoted to preserving local culture. The Society aims to be a model, showing how businesses and nonprofits can work together to better the environment.
For our final evening, we requested a private dinner for two outside our villa. An array of tropical flowers and candles decorated the table, and our chairs were draped in beautiful tapestry. The menu was tailor-made and served by our favorite waitress from the Beachcomber. A staff member even delivered a handmade crown of flowers for me, ending our trip on a supreme note.
As we said nana to Tetiaroa, we understood why Marlon Brando was so enthralled. I never did spot that guy with the walkie-talkie. Maybe Tetiaroa is just pure magic.
---
Villas start at $3,700 a night; for more go to thebrando.com.
More Stories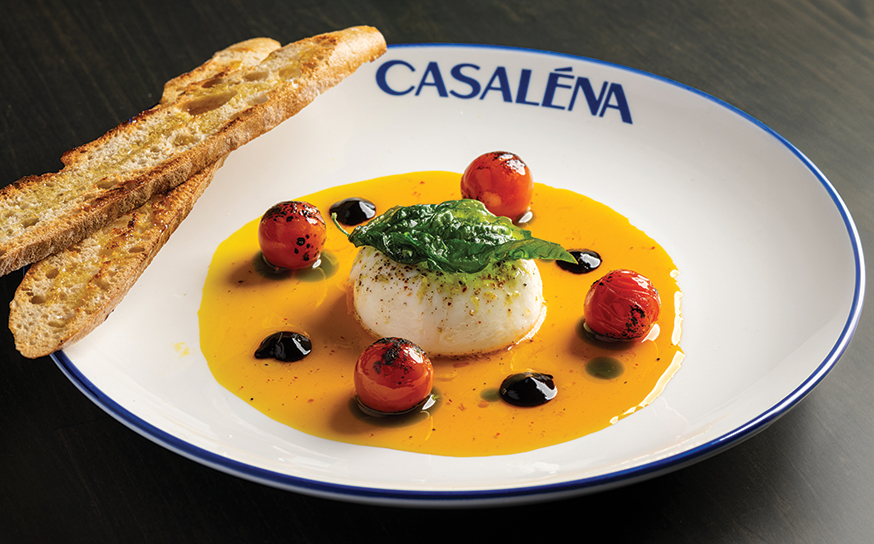 Join the Valley Community
Receive the latest stories, event invitations, local deals and other curated content from Ventura Blvd.
By clicking the subscribe button, I agree to receive occasional updates from Ventura Blvd.