Topanga Table's "Organic Opening"
Topanga's new brunch-lunch location shuns the spotlight on its organic cuisine.
You've heard of a restaurant having a "soft opening"—instead, Topanga Canyon's new Topanga Table had an "organic opening" about four weeks ago, according to manager Dominique De Rouen. The crew was at work building the interior space and testing recipes when curious passersby stopped at the building formerly occupied by Pat's Topanga Grill, which closed at the end of March.
"If someone wanted to dine, we fed them," says Dominique, also manager of Roy Choi's A-Frame Hawaiian soul food restaurant in Culver City.
In keeping with Topanga's storied hippie history, let's just call this opening a "happening." A couple weeks ago it was impossible to find a phone number for Topanga Table online. Now there's one that pops up if you Google but not on the website, which features nothing but a sprig of rosemary, the hours (7 a.m. to 3 p.m., closed Mondays) and a hard-to-read photo of the menu.
Quirky and interesting … or just annoying? Well, a bit of both. After seeing a small handful of online reviews, The Sauce had to drive out to the place to get any further information. Dominique describes the food as "simple, local, clean, sustainable" and the style as "a little industrial, a little contemporary, a little rustic." The sound system is Dominique's own collection of vinyl records played on a '70s-era stereo.
I tried a "watermelon mint organic fresca" ($4) and the plate of three "morning toasts" ($10) featuring salmon with crème fraiche and capers, avocado with goat cheese and cherry tomato, and pickled egg with cauliflower cream cheese and arugula. I finished these pretty open-faced sandwiches feeling clean, simple, local—and frankly still a little hungry. Next time I think I'll go for the hearty-sounding five-grain porridge with honey, blueberries, barley, steel-cut oats, brown rice bran, chia, quinoa and wheat bran. Dominique assures me the next batch will be wheat—and therefore gluten—free.
I'm OK with gluten—but wouldn't it be more "organic" to post your phone number on your website?
Morning toasts with a watermelon fresca
The Topanga Table, 861 N. Topanga Canyon Blvd., Topanga, 310-752-6241
More Stories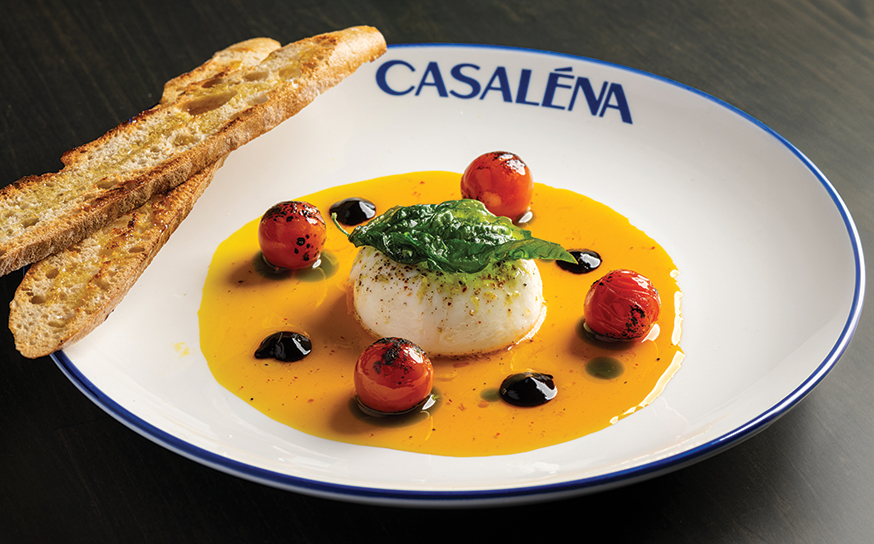 Join the Valley Community
Receive the latest stories, event invitations, local deals and other curated content from Ventura Blvd.
By clicking the subscribe button, I agree to receive occasional updates from Ventura Blvd.