From squash to lamb to Cornish hen, main courses built to impress guests
While we all look forward to standards like turkey and stuffing, sometimes it is fun to turn the tables and go outside the realm of tradition.
Category

Eat & Drink

Styled & Written by

Kara Mickelson

Photographed by

Shane O'donnell
Spaghetti & Pumpkin Squash Duo with Shitake, Pine Nuts, Sage, Tangy Kefir & Goat Cheese
Serves 4 to 6
2 medium spaghetti squash (cut lengthwise, deseeded)
1 medium sugar pumpkin (quartered, deseeded)
1 bunch collard greens (6 to 8 leaves, stems removed)
½ cup creamy goat cheese ¾ cup lebneh kefir cheese, thinned with water to a pourable consistency, seasoned with salt to taste
16 fresh sage leaves
16 shitake mushrooms (slice if large, trim stems if using whole)
½ cup pine nuts
1½ sticks butter, unsalted extra butter for cooking squash
coarse salt, kosher, to taste
fresh ground black pepper, to taste
pinch of fresh ground nutmeg
Preheat oven to 400º. Rub the inner flesh of the pumpkin and spaghetti squash with butter. Season with salt and pepper. Cook on a sheet tray at 400º until fork-tender, approximately 35 minutes for the spaghetti squash and 40–50 minutes for the pumpkin. Once the spaghetti squash has cooled, create noodles by horizontally dragging a fork across each half. The pumpkin is done when it is easily scooped out of the shell. Reserve both squash (pumpkin and spaghetti). Both can be refrigerated if making ahead of time.
In a large sauté pan, melt 4 tablespoons of butter. Add half the sage leaves and the mushrooms. Sauté until lightly brown. Add pine nuts and cook until light brown. Remove ingredients from pan and reserve. Add 2 more tablespoons of butter and 2 tablespoons of water and lightly sauté collard greens. As the greens wilt, add a few more tablespoons of water. Season with salt, pepper and nutmeg. Remove from pan and reserve.
Reheat pumpkin and spaghetti squash until warm in the microwave or oven. Melt remaining butter in a sauté pan. Add remaining sage leaves and cook until crisp but not brown.
Individually plate squash noodles and add a couple tablespoons of goat cheese and a few scoops of pumpkin per serving. Warm the mushrooms, nuts and collard greens in the sage butter and top the noodles. If serving in a platter, assemble and keep warm in a covered oven-proof dish. Add lebneh just before serving or on the side.
Fragrant Holiday Spice Lamb with Pomegranate Salsa & Butternut Squash Puree
Serves 4 to 6
olive oil
coarse salt
2 lamb racks, Frenched and trimmed of excess fat (approx. 2½ pounds each)
Fragrant Seasoning Paste
Pomegranate Molasses
Butternut Squash Puree
Pomegranate Mint Salsa
Preheat oven to 450º. In a large sauté pan or cast-iron skillet, heat olive oil to high heat. Pat lamb racks dry with paper towels and generously season with coarse salt on both sides. Coat pan with a thin layer of oil. When the heat begins to move the oil in the pan, just before smoke point, carefully add the lamb racks, fat side down.
Sear until light brown on both sides, about 6 to 8 minutes. Remove from pan and place fat side up on an oiled rack in a shallow baking pan or cast-iron skillet. Use the back of a spoon to coat the top of the lamb racks, avoiding the rib bones, with the Fragrant Seasoning Paste. You may have some paste leftover; just cover all the fat and both ends of the racks.
Roast for about 10 to 15 minutes, until internal temp is 130º for medium-rare. Brush lamb with Pomegranate Molasses. Let lamb rest up to 10 minutes before carving. Slice between the bones and serve with Butternut Squash Puree, Pomegranate Mint Salsa and extra Pomegranate Molasses.
Fragrant Seasoning Paste
1½ teaspoons fresh ground black pepper
1½ teaspoons cumin
1½ teaspoons coriander
1½ teaspoons ground cloves
1 teaspoon fresh ground nutmeg
¼ teaspoon ground cinnamon
1/8 teaspoon ground cardamom
¼ teaspoon ground allspice
1 teaspoon sweet smoked paprika
½ teaspoon Aleppo pepper, or ¼ teaspoon cayenne
2 tablespoons whole grain mustard
¼ cup olive oil
Dry toast spices in pan until fragrant. Blend in a spice blender until fine. Sift out any large pieces. Cool and reserve. Can be made a week in advance. Mix spice blend with the mustard and drizzle in the olive oil until you have a spreadable consistency. Reserve, covered under refrigeration.
Pomegranate Molasses
½ cup pomegranate molasses
½ cup honey
4 tablespoons red wine vinegar
Mix all ingredients until combined. Reserve under refrigeration.
Butternut Squash Puree
1 butternut squash
2 tablespoons of butter
1 small white or yellow onion, diced
Wash squash, cut end and peel with a vegetable peeler to remove hard outer skin. Slice lengthwise and remove seeds and string. Cut into cubes. Melt butter in a saucepan. Add a small amount of water. Add onion. Sweat ingredients by allowing steam to soften squash and onion without browning. Continue to stir and gradually add up to 1 cup of water. Continue cooking until the vegetables are fork-tender and the liquid is almost evaporated. Remove from heat, cool slightly and puree in a food processor until thick and smooth. Add a tablespoon or 2 of water if needed to smooth the puree.
Pomegranate Mint Salsa
1 pomegranate, deseeded
1 small orange, juiced
1 lemon, juiced
2 cloves garlic, peeled and minced
½ cup mint leaves, washed, stemmed and chopped
¼ cup parsley leaves, washed, stemmed and chopped
¼ cup of cilantro leaves, washed, stemmed and chopped
1 tablespoon of honey
1/2 cup of mild olive oil
1 teaspoon salt
Combine all ingredients except leaves. Add fresh herbs up to 2 hours before serving. Reserve under refrigeration.
Note: If you don't want to make your own spice paste, use 2½ tablespoons of store-bought Arabic 7-spice, available at Persian markets. If the purchased spice blend includes allspice, don't add more. If blending your own spice mix, you can substitute ground spices for whole and skip grinding; however, expect less fragrance.
Cornish Hen Or Quail with Prosciutto, Sage, Couscous and Cream Sherry Sauce
Serves 6
6 Cornish game hens (1½ pounds each) or quail, 2 per person
18 slices prosciutto
1 bunch fresh sage
vegetable oil
Preheat oven to 425º. Remove hens from packaging and pat dry with paper towels. Generously season with salt and pepper. Truss legs and remove any giblets. Place fresh sage leaves on breast and top with thin, slightly overlapping layers of prosciutto to cover.
Heat medium to large sauté pan and add vegetable oil to lightly coat pan and prevent sticking. Sauté hens breast for 3 minutes over medium-high heat. Carefully turn bird(s) and cook another 3 minutes or until skin tightens and starts to brown. Remove and place in a pan with a roasting rack, breast side up. Sear all hens, adding additional oil only if needed. Reserve pan drippings for pan sauce.
Serve with Israeli Pearl Couscous and Cream Sherry Pan Sauce.
Israeli Pearl Couscous
4 tablespoons unsalted butter
¾ cup pancetta, cut into small cubes
1 cup white or yellow onion, cut into small cubes
½ cup celery, cut into small cubes
6 leaves fresh sage, washed, dried and minced
2½ cups chicken stock
1 teaspoon coarse kosher salt
2 cups pearl couscous
¼ cup dried currants
¾ cup toasted, unsalted pistachios
In a medium saucepot, melt 3 tablespoons of butter and sauté pancetta until light brown. Add 1 more tablespoon of butter and cook while stirring. Add onions and celery and cook until tender without browning. Add sage. Cook for a few seconds and then add stock, salt, couscous, pistachios and currants. Bring to a boil, reduce heat to low and simmer covered until liquid is absorbed and couscous is al dente. Remove from heat and cool to room temp. Refrigerate if making in advance.
Cream Sherry Pan Sauce
1 shallot, fine dice
4 tablespoons pan drippings
2 tablespoons butter
2 tablespoons flour
¼ cup cream sherry
2 cups chicken stock
1 teaspoon ground white pepper
1 teaspoon salt, or to taste
Add shallot to pan juices and sweat until tender without browning. Add butter and melt. Add flour and cook for 1 minute. Add sherry and stir until combined. Slowly add stock and reduce sauce until it thickens. Remove from heat and strain if desired. Check for seasoning.
More Stories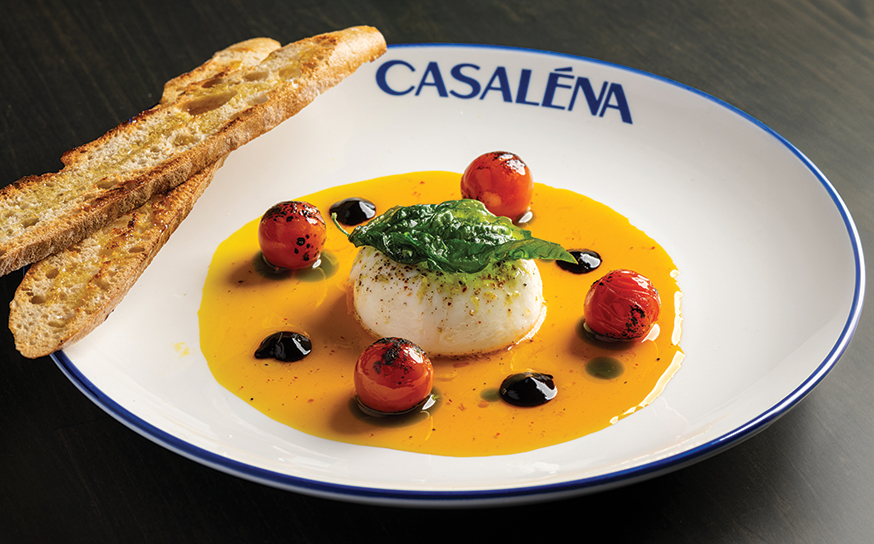 Join the Valley Community
Receive the latest stories, event invitations, local deals and other curated content from Ventura Blvd.
By clicking the subscribe button, I agree to receive occasional updates from Ventura Blvd.