Woodley Proper Deftly Pairs Food and Drinks in Encino
Phillip Frankland Lee and Margarita Kallas-Lee already turned Scratch|Bar & Kitchen into a hit on the second floor of Encino Place. This month, the Scratch|Restaurants duo and highly-touted bartender Devon […]
Phillip Frankland Lee and Margarita Kallas-Lee already turned Scratch|Bar & Kitchen into a hit on the second floor of Encino Place. This month, the Scratch|Restaurants duo and highly-touted bartender Devon Espinosa debuted Woodley Proper next door.
Items "from the kitchen" include a smattering of snacks; a pair of salads; four well-dressed, house-baked sourdough toasts; and three mighty mains. The largest offerings consist of one-half roast chicken with mashed potatoes, roasted broccoli and beer jus; and a dry-aged, shawarma-spiced Prime New York strip steak served with Russian style (sour cream-dressed) tomato salad.
Woodley Proper also touts a "proper tower" of raw and steamed shellfish, house-cured charcuterie and house-made artisan cheeses served with "proper" accouterments. As you can tell from the menu and experience, the husband-and-wife team takes having the right food with the right drinks seriously.
Phillip originally planned to collaborate with chef Luke Reyes, who was also supposed to helm Oh Man! Ramen, but they parted ways before either project took shape. Phillip and Margarita forged ahead on Woodley Proper, and the space earmarked for a noodle shop has become Frankland's Crab & Co.—an upcoming third piece of the couple's Encino triumvirate that's slated to open this month.
On the menu, Phillip espouses, "We've just opened, but I imagine that every month or so there will be a new dish added or changed somehow. It certainly will not be like Scratch|Bar & Kitchen where we present guests with an entire new menu each month. With Woodley Proper, we will continue to collaborate with the entire team, test new recipes, and when we come up with a dish we love we will add it to the menu!"
Margarita describes desserts at neighboring Scratch|Bar & Kitchen as "much more refined." She calls Woodley Proper's desserts a "more simple yet traditional Americana approach." She finishes meals with a quartet of sweets ranging from brioche donuts with bergamot whipped cream to more elaborate churro bites stuffed with foie gras mousse and served with apple syrup and fresh thyme. In all cases she's shooting for "very nostalgic flavor, which is what my desserts are mostly based on—memories."
Devon has constructed a cocktail menu with unique categories that are geared toward the kind of experience customers can expect at a "cocktail restaurant" versus a standard bar. He says, "The cocktails served at Woodley Proper are categorized more akin to a restaurant than a bar, by appetite (small bites to taste, mains to savor and big party punches to share) and by palate (aromatic, floral, herbaceous, fruit and treats)."
"Snacks" amount to palate cleansers, including a vodka sphere with blueberry, allspice and lemon. "Treats" are well-balanced liquid desserts. For example, a "proper" Brandy Alexander combines Cognac, crème de cacao, cream, nutmeg and cocoa nibs.
You can also score "Yorkshires," share-friendly punches like the Encino Man made with gin, Aperol, grapefruit, lemon and mint. "Proper" bottle service allows customers to "Host Your Own Cocktail Party" with three different cocktails—old-fashioned, mojito or margarita—which all come with a full liquor bottle along with house-made mixers, traditional and untraditional accoutrements, a bartender and tutorial.
"Proper Pours" fall into four key categories: aromatic, herbalicious, floral or fruit. Find "proper" versions of classic cocktails like the Last Word, Aviation or Sazerac. Originals include the signature Woodley Proper, made with bourbon, allspice, Carpano Antica formula, Becherovka with an orange and lemon peel garnish.
If cocktails don't sway you, Woodley Proper also pours 23 reds, whites and roses by the glass or bottle, along with three craft beers. No doubt all "proper."
The space from interior designer Jordan Olson resembles an "elegant home" with blue, black, white and earth-tone color scheme; 100-year-old oak bistro tables; copper-topped bar; open kitchen; winged Chesterfield armchairs; and patterned Victorian wallpaper.
Experience Woodley Proper's confluence of flavors, colors and textures daily from noon to 2 a.m.
16101 Ventura Boulevard, Encino, 818-906-9775
More Stories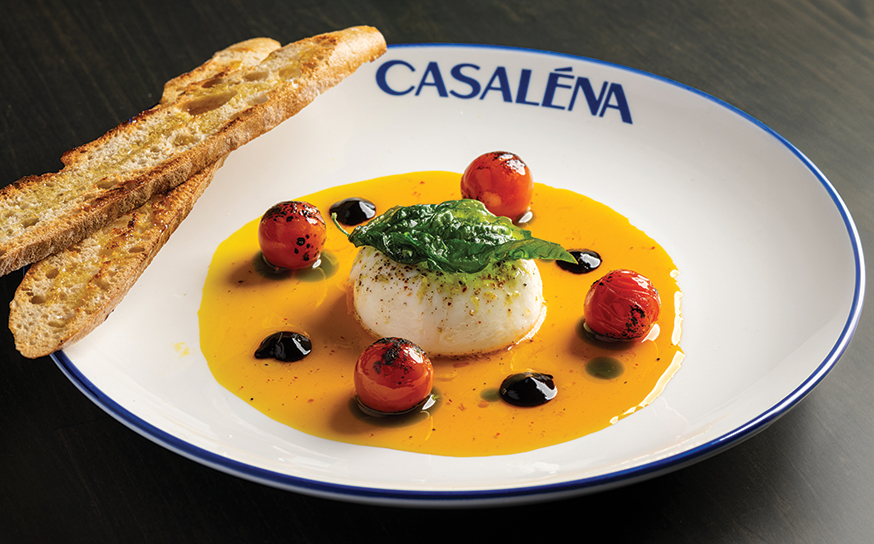 Join the Valley Community
Receive the latest stories, event invitations, local deals and other curated content from Ventura Blvd.
By clicking the subscribe button, I agree to receive occasional updates from Ventura Blvd.