Worth the Drive: The Barton G. Experience
Imagine Alice in Wonderland's Mad Hatter Tea Party meets Willy Wonka &The Chocolate Factory—on steroids—then you can pretty much picture Barton G., which opened on La Cienega in June. This is the second location for […]
Imagine Alice in Wonderland's Mad Hatter Tea Party meets Willy Wonka &The Chocolate Factory—on steroids—then you can pretty much picture Barton G., which opened on La Cienega in June. This is the second location for the Miami-based restaurant that displays grand theatrics to the most decadent degree in a whimsical and playful style. There is nothing like it in Los Angeles, so if you have a reason to celebrate or just want to experience a unique and memorable night on the town, this might just be the place.
The 3,200-square-foot space is decked out in full Hollywood glamour with plush seating, a 15-foot pink onyx bar, cascading drapes, floor-to-ceiling fresh orchid wall displays, a wall of reclaimed wood barrels, an engraved bronze glass backdrop, and an open pastry kitchen that overlooks the restaurant. The concept comes from restaurateur and designer Barton G. Weiss, who designed the restaurant to "inspire, tickling one's intellect and appealing to all the senses."
While some dishes are better than others, it is the experience itself that sets Barton G. apart—and it really is the experience that you are paying for. Each dish comes with props, including a toaster, flower pots, a samurai sword, a 4-foot fork, popcorn machine, metal sculptures and so much more. Bring a sense of humor and a credit card (theatrics don't come cheap)—and a good time will be guaranteed. Reservations are required.
Here is a peek at some highlights:
The interior: mod, plush glamour
Order a nitrogen cocktail such as the Sabrinatini—orange vodka and watermelon liqueur with a nitro-Champagne swizzle stick (it melts) and a chocolate monkey.
Start your meal with complimentary bread shaped like donuts with chocolate truffle, pink peppercorn cheese and basil toppings.
Bucket of Bones: barbecued Korean-style short ribs, 12-hour baby back ribs, grilled lamb lollipops, chicken drumettes, house-made pickles, BBQ kettle chips and honey gorgonzola dipping sauce.
Lobster Trap mac 'n'cheese: spiral pasta in a three-cheese sauce with a pound of lobster
Samurai Tuna: rice cracker-crusted Hawaiian ahi tuna; spicy peanut soba noodles; long beans with fermented black bean, seared shishito peppers and pomegranate miso.
Say Ahhhh Surf 'n' Turf: 18-ounce bone-in filet mignon with giant prawns, roasted marrow, root and local vegetables, and black pepper bordelaise
The Great American Steak: 16-ounce boneless rib eye charbroiled with slow-braised oxtail, roasted bone marrow, truffled duck fat steak fries, baby carrots and asparagus, black pepper bordelaise
Marie Antoniette: pink cotton candy "wig" with mini strawberry short cakes and whipped cream
Sweet Garden Pots: dessert pots filled with key lime pie, cherry jubilee, lemon meringue pie, mud pie and more
Wild Bird Dessert: Valrhona chocolate with bittersweet guanaja and white chocolate giant eggs, whipped coconut panna cotta, passion fruit gel (for the "yolk"), brown sugar streusel and Valrhona chocolate ganache
Barton G., 861 N. La Cienega Blvd., Los Angeles, 310-388-1888. Sunday to Thursday, 6 to 11 p.m.; Friday and Saturday, 6 p.m. to 12 a.m.
More Stories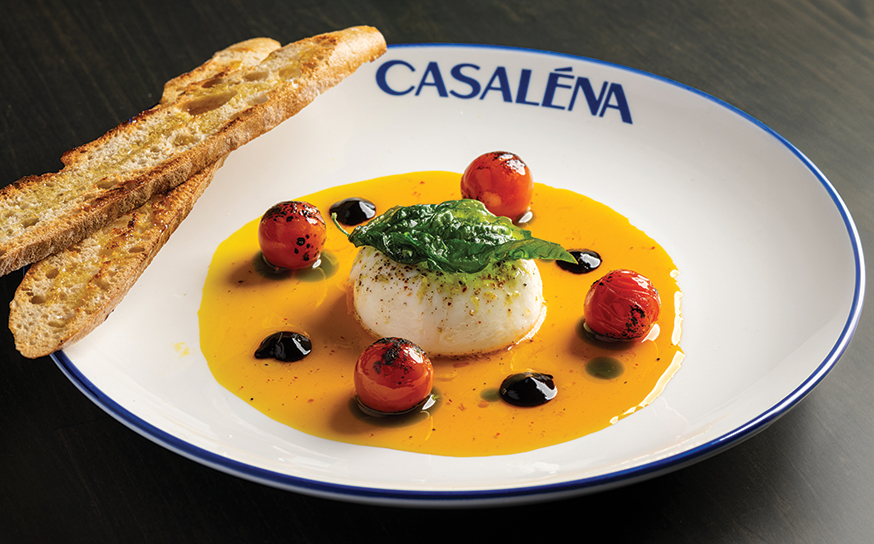 Join the Valley Community
Receive the latest stories, event invitations, local deals and other curated content from Ventura Blvd.
By clicking the subscribe button, I agree to receive occasional updates from Ventura Blvd.