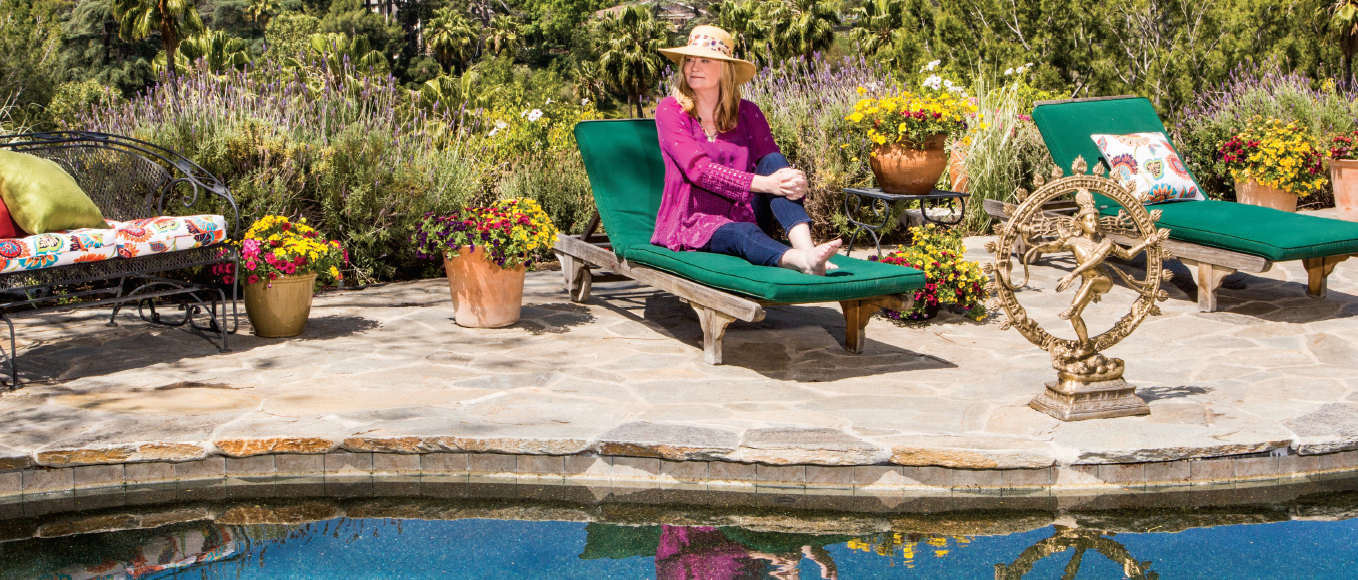 Actress Cybill Shepherd invites us into her home in the hills of Encino
Catching up with longtime Encino resident actress Cybill Shepherd
"I think it is really important to know why you live where you do," muses Cybill Shepherd.
The actress, well known for her movie (The Last Picture Show, The Heartbreak Kid, Taxi Driver) and award-winning TV career (Moonlighting and Cybill) has called Encino home for the past 33 years.
"I had lived in Bel Air when I was with Peter Bogdanovich. And I just didn't love it," she explains. After eight years of living together, the couple split up. "He already had two kids with Polly Platt and didn't want any more. I really wanted to have children."
Cybill married and had a daughter. She married again and had twins—a boy and a girl. "I just thought the Valley was a better place to raise kids. The Valley is down to earth and my kids went to school here. Plus, I wanted to avoid the tour buses that you get on the other side of the hill."
She lived on a large estate in Royal Oaks in the '90s and then decided to downscale. "My manager kept telling me it just wasn't a good idea to spend that much money each month!" she laughs.
After a two-year search, she saw a traditional Cape Cod-style home perched high in the hills overlooking Hayvenhurst Blvd., as it swirls up the canyon toward Mulholland. "That was 17 years ago and I remember it so clearly. I knew the house was perfect and I paid the asking price on the spot. It was a smart move. Of all my homes, this one is my favorite."
With a tall wall surrounding the property, the vibe instantly changes once the gate opens. The gentle sound of wind chimes is the first "hello." A fern-filled walkway leads to a red front door.
The three bedroom, two-story home, which the actress shares with her three small dogs, was built in 1965. From fabric to furnishings, décor is inspired by the actress' southern heritage as well as her half century-long career. Many of the accessories and accent pieces are memorabilia. There's Cybill on the cover of Vogue, photographed by Bert Stern. There she is on the cover of Rolling Stone, shot by Matthew Ralston. Several issues of Life magazine with the actress on the cover lie on the baby grand piano.
A step-down bar in the living room has been transformed into an awards showcase. A large stone Buddha and an illustration of Orson Welles by the well-known caricaturist Al Hirschfeld add a bit of levity. Though there are three Golden Globes on the counter, "I think the People's Choice award is my favorite because it came from the people," she remarks.
The peach, moss-green and bright yellow color palate carried throughout the home is inspired by several oil paintings she owns. They are the work of Peter's father, Borislav Bogdanovich, an artist who lived in Serbia.
"Borislav died while we were shooting The Last Picture Show, so I never had the pleasure of meeting him. Looking back, I just don't know how Peter got through that movie with such sad news," shares Cybill as she gazes at a painting above the living room fireplace.
She calls her most recent endeavor, the dramatic comedy, Rose, which she shot in New Mexico last year, "my best work yet." The film follows Rose (played by Shepherd), a recently disabled and widowed ex-cop who discovers she has a short time to live. Confined to a motorized wheelchair, she takes a road trip through the southwest in an effort to reconcile with her estranged son. Along the way, she finds love with a cowboy played by James Brolin.
"I think it is one of my best performances. It's harder as you get older to get roles. I hope this movie will give me the opportunity to do more," she notes. Yet she quickly counters that with "It is hard to look at myself though; I don't love the way I look." Now 67, the actress's blonde, ethereal looks have morphed into a more regal beauty. Still intact: the sky-high cheekbones and creamy complexion that launched her career.
Cybill started modeling as a teenager (she was both the "Breck girl" and the "Kodak girl") and ultimately wound up on a cover of Glamour. Peter Bogdanovich spotted the magazine and requested a meeting. "I was just 19 and I'd never acted before. I showed up at the meeting at The Essex House in New York City in cut-off jeans. He said it was something about the way I ate strawberries that convinced him I could act," she chuckles. The director cast her in The Last Picture Show, which won two Oscars and thrust Cybill into the national spotlight.
As a girl, it wasn't acting but singing that was her passion. She made an album in the '70s and at one point studied to be an opera singer. "And now I've returned to that you might say," Cybill explains. She is booked to sing at Vitello's in Studio City on August 5. "I'm not trying to get out there and impress critics or anything. I just want to spend an evening with my longtime fans. It's a chance for us to be together and for me to thank them for being so supportive all these years."
More Stories