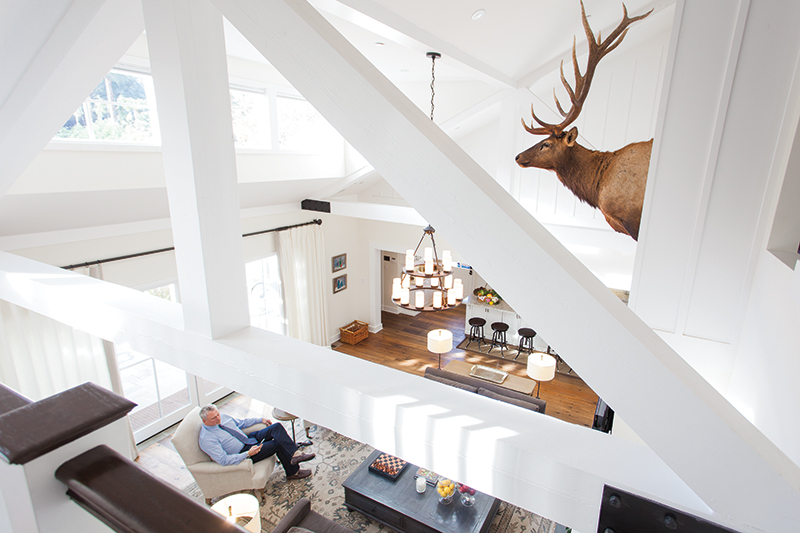 Country Uncorked
A newly constructed home on one of the prettiest streets in the Valley is inspired by Napa Valley wine country.
Category

Homes

Written by

Heather David |
A white, traditional farmhouse sits on one of the oldest residential streets in Sherman Oaks, lined with 80-year-old purple blossoming jacaranda trees. Nearly every night you'll find the married couple that owns it, Sean and Nicole Perry, relaxing on front-porch rocking chairs, enjoying a glass of cabernet sauvignon.
"We're front-porch people and have made a conscious decision to know our neighbors. We don't want to live our lives behind privacy gates; that's just not a community," says Nicole.
Between their old-school friendliness and well-landscaped front yard, you might think they've been here for decades. But they purchased, constructed and moved into the home within the span of three years.
When Nicole and Sean set their eyes on the original piece of property—a mid-century, single-level home built in 1948—they instantly saw potential. "We knew it could be remodeled easily. It had great structural bones, a spacious lot, and it was on one of my favorite tree-lined streets," Nicole remembers.
Sean is partner and co-department head for non-scripted TV at William Morris Endeavor, and Nicole is a hands-on mom with three kids: 12-year-old twins McKenna and Aidan and 17-year-old Brandon.
With such a busy, high-powered career, Sean clearly relishes getting away from it all at the end of the day. "We like to be home with the kids. I eat out a lot when I'm working. Nicole is a great cook, so we like to stay in most nights," he says.
"We're front-porch people and have made a conscious decision to know our neighbors. We don't want to live our lives behind privacy gates; that's just not a community."
Together the couple shares a passion for building and remodeling homes and investment properties. So when it came to their family abode, there was no question they would retain complete creative control.
"Once you build and have an opportunity to get exactly what you want, you get spoiled. It's also a great feeling at the end of the day to proudly say, 'I did that,'" admits Nicole.
Inspiration comes from a place close to their hearts: St. Helena in Napa Valley, where they own a vacation cottage. "I really wanted this distinctive, Napa Valley farmhouse look, which is board-and-batten vertical wood siding and a metal roof," says Nicole, the mastermind behind the project.
GREAT ROOM: The focal point of the Perry home is the spacious family room. Sean, an avid hunter, brought home the buck after one of his excursions.
After collaborating with two locals—architect Jon Brouse and builder Kirin Stone—the structure was taken down to the studs and rebuilt from the foundation up. The most significant architectural change was adding a second floor, which provided an additional 1,800 square feet of living space.
In fall 2014, after nearly two years of construction, the Perrys settled into their new digs. These days the family spends most of their time in the center of the home: an open concept living area that includes a spacious family room with 25-foot ceilings as well as a state-of-the-art kitchen.
"I like being aware of all of the spaces in my house at one time, and this layout gives the illusion that the house is bigger than it really is. I also love seeing the bones of the house, so that's why we kept the trusses exposed," explains Nicole.
Another rustic, farmhouse-inspired detail is the cupola—the small, dome-like structure on the roof. Typically built on barns to provide ventilation, the Perrys' cupola allows for natural sunlight to flood into the already sunny structure.
"My goal is to not have one light on during the day and just have the windows open. From different angles of the house you can look outside and see the beautiful surrounding greenery," Nicole says.
In addition to suggesting many of the architectural material and design choices, Nicole also served as interior designer, aiming to make the home warm and comfortable "but also include splashes of elegance throughout, giving you a sense of luxury."
These touches are found throughout the 5,000-square-foot home—from vintage-inspired hardware and light fixtures to all of the bathrooms, which were modeled after 1930s hotel powder rooms. Distinct details include small hexagonal and basket-weave tiles, characteristic of the time period.
"I'm also a really a big believer that the colors you have on the outside are the same hues you should have on the inside. That way the entire space feels like it belongs together. That's why you'll see brown, grey and taupe as the main color palate.
"When your home is well balanced and pleasing to the eye, it just feels good to be in it." And indeed, the Perrys do.
More Stories